Finally riding a big boys bike
'71 Raleigh Superbe/'69 Raleigh Superbe $650
I'm a small-time collector of older European Bikes (mostly)…and a variety of life issues dictate I begin selling off my collection.
1971 Raleigh Superbe Men's: I've just completed a complete detailing/servicing of this very, very nice bike. Everything has been carefully cleaned, polished, and
all
bearings have been cleaned and greased as well. I replaced the grips; aftermarket, but they look good. The Kenda tires appear to be new. The pump I judge to be non-original, because they're always missing. There is no key for the fork lock, but those are easy enough to get. Other than that, the original paint is nice, with some loss in evidence. All the chrome is very nice. Cables work well, and are the original black-ribbed kind. The bell was probably added at some time. The Sturmey Archer AW 3-speed hub works nicely, dated 8 71 The Dyno Hub works well (though the tail light lens is missing its bulb and lens). There are some minor signs of use to the bike. But overall, you'd be hard-pressed to find a better example.
1969 Raleigh Superbe Women's: My pictures of this bike are meager, at the moment. Sometime back, I replaced its grips with the same as the '71's. It's missing the tail light, but I would include one that pretty well replicates an original. It does have a nice original rear rack. I honestly can't remember how much servicing I put into this bike. I would expect its indistructible Sturmey Archer AW 3-speed hub to work well. The saddle - appears vintage; I don't know if its original; but it's in fine shape. And, yes - no fork lock key. down shortly and go over it. I repainted the chain guard and rear fender. The original guard goes with the bike. The Dyno Hub tests well -but won't light; I believe the problem's in the switch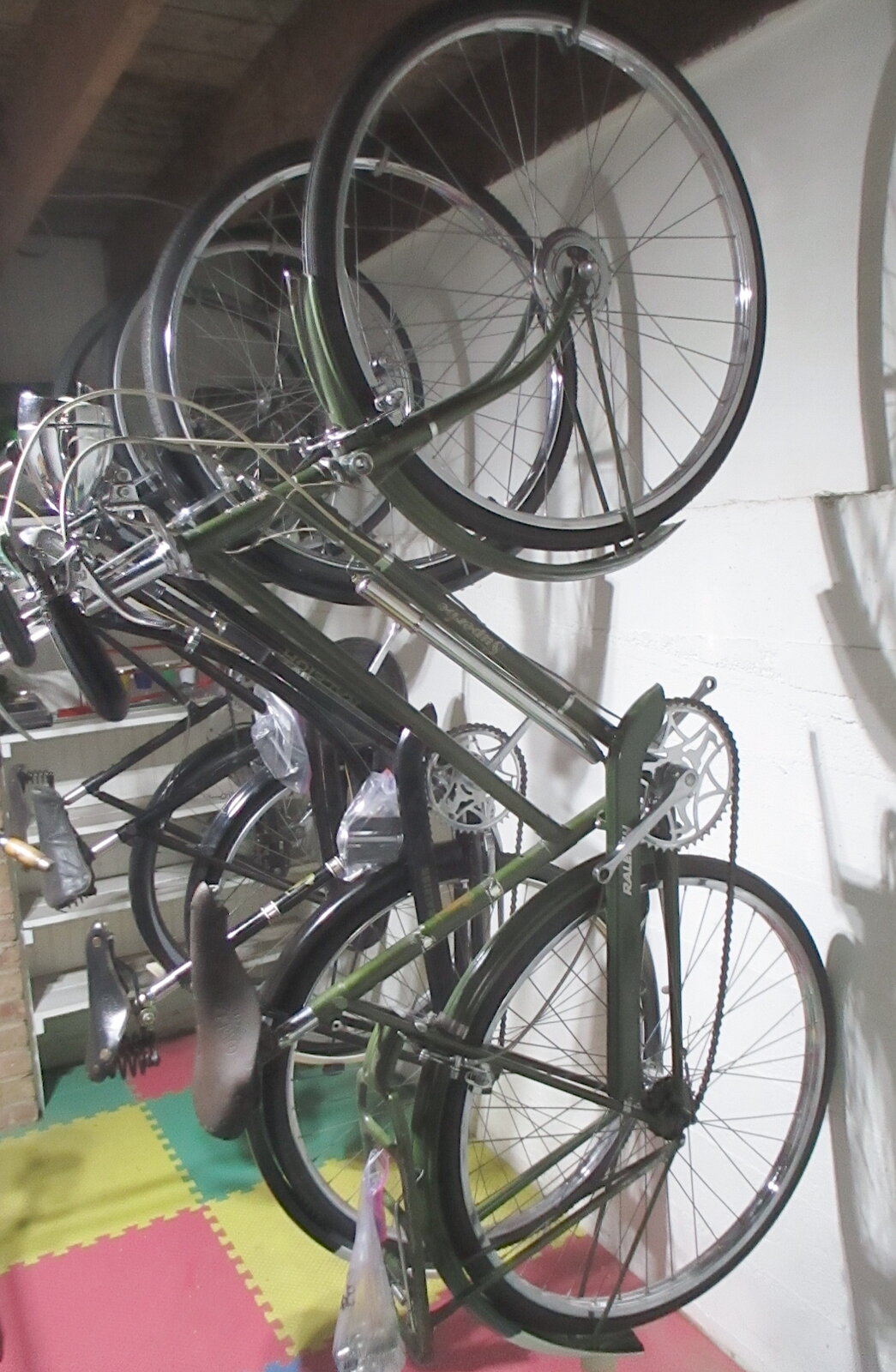 I'm committed to selling these as a pair. I am happy to answer questions, take additional pictures, or show them any time. Shipping - I'm no longer able to pack a bike, but I'll work with a local bike shop and the shipper of your choice. Located in Crystal Lake, IL - 50 miles NW of Chicago. Thanks.