Oct 2, 2016
2,523
62
Winnipeg, Canada
Product description with shim to fit 13/16 seat post ( about 7/8 with shim) post included.
Quote from Brooks of England/U.K.
"The B135 is one of our most heavily-sprung models, featuring double rear coil springs and a double loop front spring. Seating comfort is accounted for by the leather top, which has the same shape of our well known B66 model."
Here is a brand new Classic Brooks of England bicycle saddle I purchased last year, put it on a display bicycle inside, never rode it, then removed it as I went with a different saddle. Note that the seat post clamp is 7/8 inches. Sometimes an American tapered post can be reversed in the frame to accommodate the larger diameter clamp. The 7/8" clamp/post is common on most non American bicycles. These are beyond comfortable and have a quality second to none. Comes with 2 cloth factory bags and Brooks newsletter the Bugle ( old issue/bit wrinkled).
I am selling it at my cost and will lose some money on shipping. I will ship to the CONUS and Canada FREE. The saddle is REDUCED $175.00 U.S. funds SHIPPED. Paypal preferred as F/F or include the 3%. PM me if you want it.
My reputation on the CABE as a buyer and seller is excellent. I am "nsuser" on Feebay with 100% pos FB at 1108 for 17 years. Cheers, Bob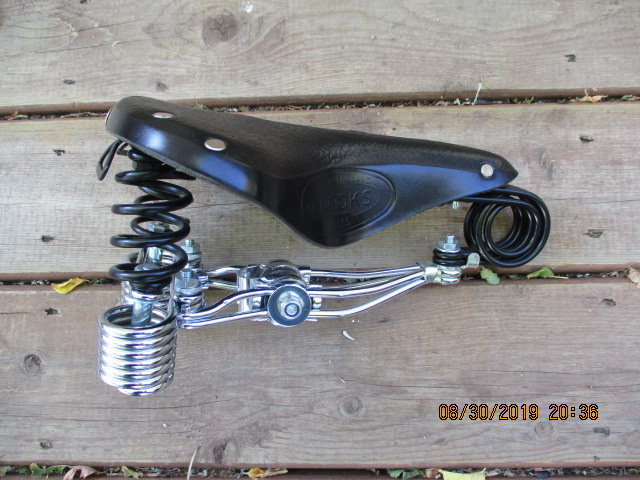 Last edited: