1895 Crescent Racer by Western Wheel Works, Chicago. 22" frame. Original Maroon paint with pin stripes, random filagrees, down tube lettering, and perfect brass Head Badge. Beautiful lugged construction, and big 1 1/4" main triangle tubes; half round tubes in the chain stays and seat stays, which turn round into a detailed seat binder and a bomber rear dropout; super cool fork crown; half-split BB with binder bolt and grease port on top; clean block chain and single drive-side chain adjuster; detailed bearing cups on the headset and front hub; ND/Corbin Coaster Rear Hub; both hubs have oil ports with covers intact; 19 x 7 gearing; 6.5" crank arm; Crescent seat post; Crescent pedals with stamped end caps and toe clips; rims are painted white with the front being in good condition and the rear looking a little yellow and crackled, but overall both are very nice, the rear is very straight and the front could use a few minutes in a truing stand, but they ride fine, I put a non-taped pair of RD tires on and took it for a gentle ride, the wheels are great and the brakes work, definitely a rider.
The bike is shown in picture #1 with a few extra add-on parts, which are optional to the purchase, not included here and priced separately below. The bike DOES NOT come with the RD TIRES or Wheeler SADDLE shown in the pictures. It does come as shown in picture #2, with the single piece bar/stem combo and New Departure E9 Bell, Crescent seat post, cork grips, but NO TIRES or SADDLE. $1600/shipped in the states; PayPal Friends and family, or add 4% for goods and services. It will be packed very, very well!
The extra add-ons, which are NOT included in the above price, are available as follows:
- Ridgway Instantaneous Adjustable Handlebars = $360
- Bulldog Grips = $80
- T Seat Post = $55
The above three items were purchased here on The Cabe for the same prices.
If you want a complete out of the box rider, I will let the TIRES and SADDLE go for:
- Wheeler Saddle from Antique Moto-Smith, with original Wheeler frame = $475 (he is selling this same saddle on eBay without the frame for $360)
- Robert Dean 28 x 1.5" single tube tires, no miles = $300 (same price you would pay for ordering direct from RD)
So, the complete bike as shown in picture #1, with all of the above mentioned add-ons would be $2870, and you are riding down the sidewalk on a sweet 122 year old rider. You can add parts if needed, or take the base model for $1600, as shown in picture #2, minus the tires.
I think its nice to have choices…….
My prices are fair and firm, thank you!
This is picture #1.......
This is picture #2.....base price = no tires......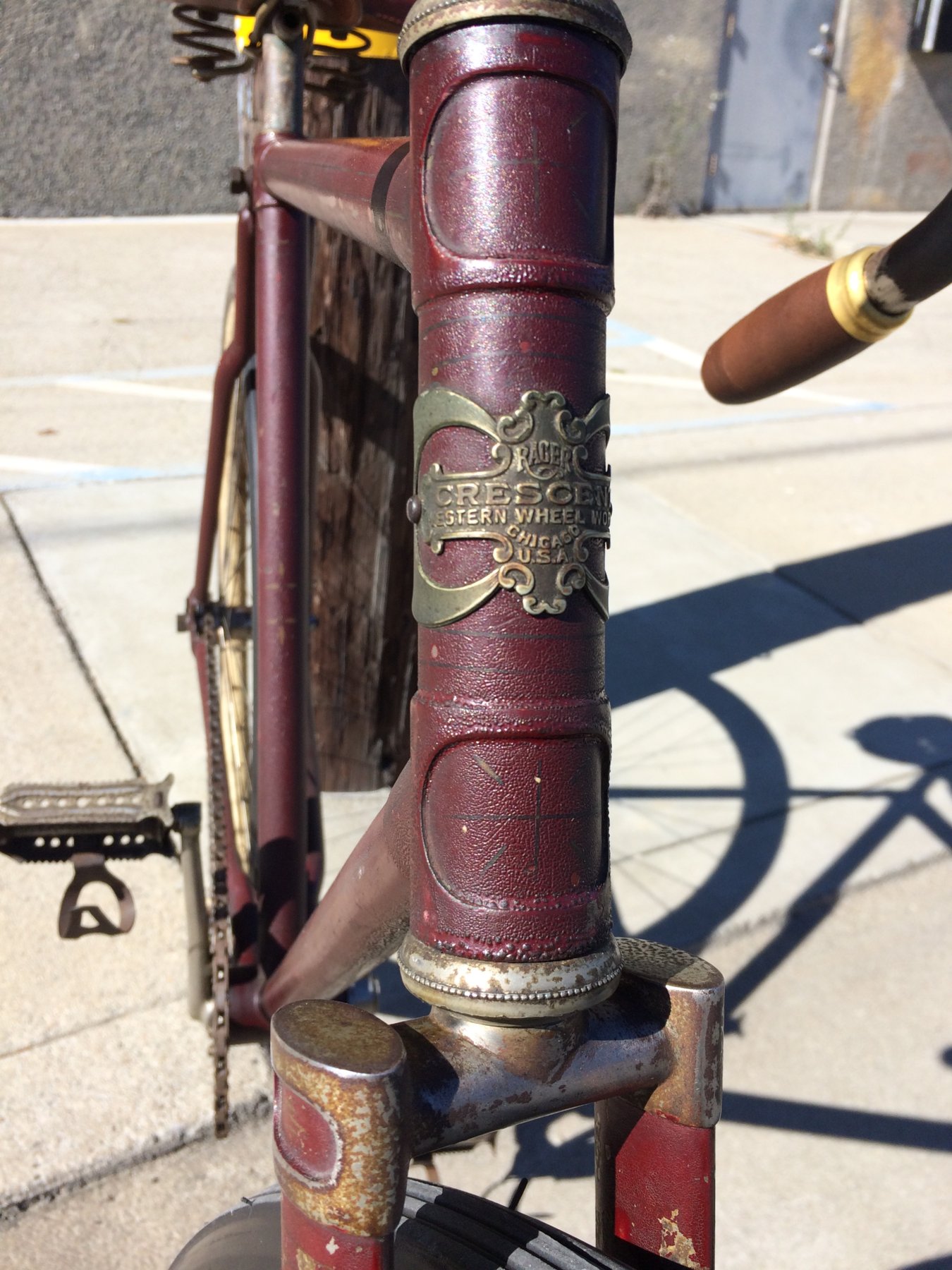 front spokes are tied...
rear rim...
front rim....
down tube script....
more to follow...