May 26, 2011
3,881
Plymouth, Michigan
I picked up this project a while back from a local member on RRB. It was destined to hang on a wall but thankfully he deemed it too cool to meet that fate. I'm determined to make a rider out of the sucker, knowing full well it be the most involved and most pricey project I've taken on. Not the most exotic of TOC bicycles, but it spoke to me.
Here it is when I got it home. Original paint is relatively intact. Tires are pretty good and matching. rear wheel was swapped for a coaster brake and clad wheel. Missing one grip and one pedal. Seat had good leather but was falling apart, wood pan had broken at the nose and most of the stitching was gone.
My progress so far includes picking up a pair of pedals from Bricycle that match the one that was on there. I've also got a front hub coming from Bri to made the rider wheelset. I got a beautiful, original Peerless coaster hub from Willswares1220. A fixed wheel for the original wheelset from Bikewhorder. I bought a pair of 700c wood hoops from Noah Stutzman (aluminum lined ones were the same price, so I figured I couldn't go wrong there). Grabbed a pair of creme Amsterdam tires from McCaskey at the MLC meet. Just finished rehabbing the seat.
Quite a bit of work into the seat and I'm very happy with it overall. First step I started months ago was to pick up some Pecard's Antique leather dressing. They call it dressing but it really saps into the leather and works it back into usable condition. The color pulled out on the first application, but I applied often over a couple weeks to resuscitate the neglected 100 year old leather. Then I addressed the busted wood pan with some Elmer's wood glue max. This stuff is awesome. The nose is now rigid as if it had never been broken. Next, the demanding task of hand stitching all the missing seams. I bought a Speedy Stitcher sewing awl to replicate the lock stitches that were originally made. If I were to do it again, I would have pulled every stitch, but as it stands, I did about 2/3s in new thread. I was unable to do one corner because the leather on the underside had become brittle, so it was just tearing through in that corner. Luckily the rest was supple enough to stitch. Some look uneven because I couldn't always pull them tight due to the condition of the bottom leather. All things considered, it came out very well for being at its mercy.
Before: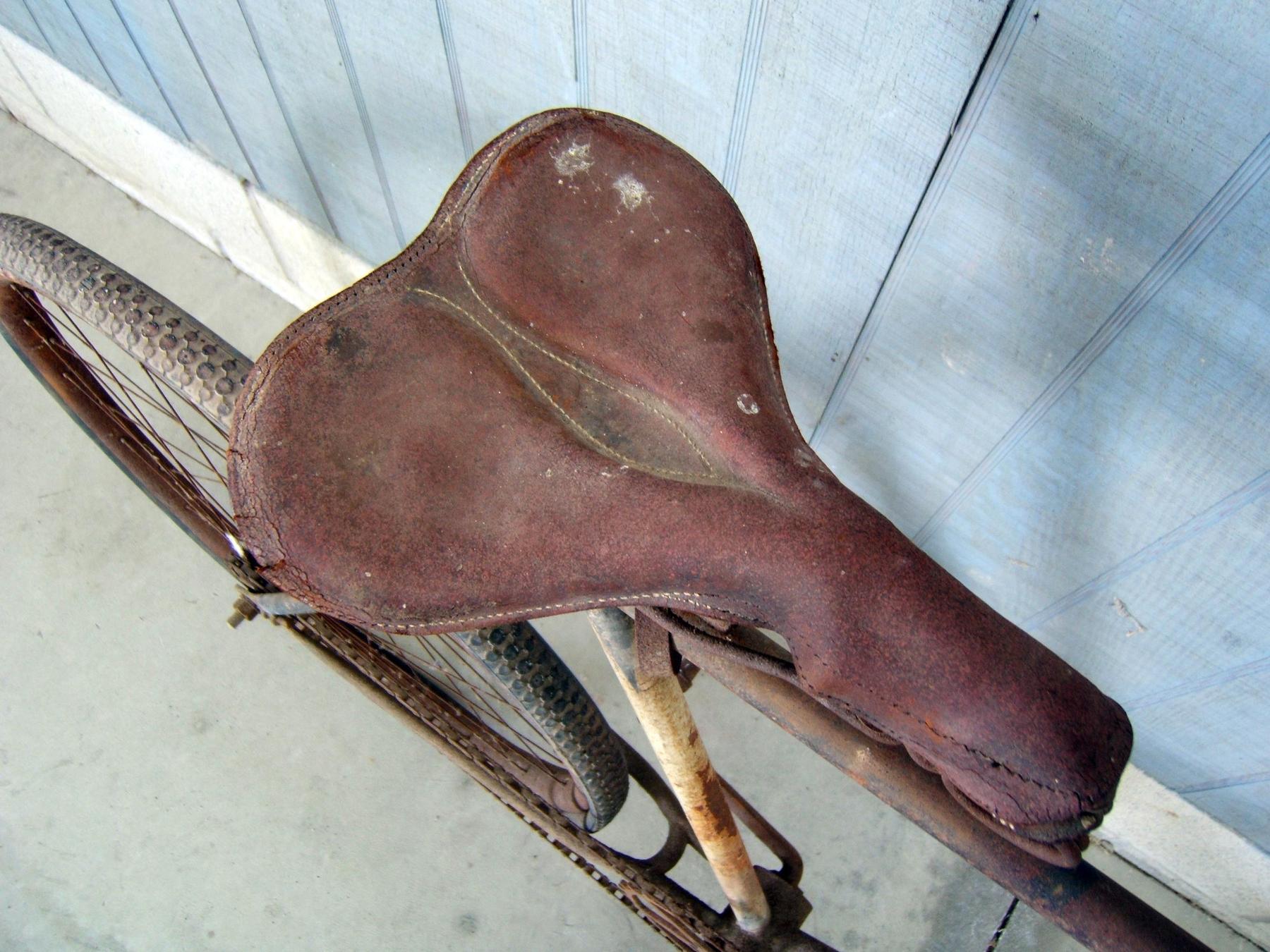 After:
Next stop is to paint and antique the Stutzman wheels. The originals were painted black with a white skunk stripe in the middle and I will use this same scheme. Hence the decision for creme tires as much as I like black.
I picked up an old leather tool belt to use as donor leather that matches the tone of the existing grip very well. I have some veneer I will steam and wrap, then stitch together a matching glove grip, using the existing one as a template. If it matches well enough, I'll leave the original, or maybe just make a second one.
Then I can eventually get down to the bike itself.