Wore out three sets of tires already!
With four bikes in my living room, one in my bedroom, six in the garage and two being built, I have come to realize that I need to thin out the collection a little bit. Why? To make room for two more projects of course.
This one is truly one of my all-time favorites, and one of the best running bikes I have ever put together. This one is a 1928 Schwinn Motorbike that was purpose-built for last year's 15th Annual Rat Rod Bikes Build-off. It was fun to compete against some talented enthusiasts with this, my first entry. Came in tied for 5th place, got an OddJob award! and was the top Schwinn finisher. Lots of research and planning went into the design and build of this one-of-a-kind bike.
https://thecabe.com/forum/threads/1928-schwinn-rat-rod-rider.175696/
https://ratrodbikes.com/forum/threa...otorbike-walk-around-ride-video.111476/page-6
https://ratrodbikes.com/forum/threa...-video-1928-schwinn-motorbike-is-done.112189/
Here is a list of the build:
1928 Schwinn frameset (28" double-diamond frame badged Arnold Schwinn ELECTRIC, typical brazed truss rod forks, original headset, neck, cranks and sprocket). Frame and forks have multi-layer 95-year-old original patina.
All steel sheet metal B10 tool box tank – faithful reproduction. Powder coated and then patina matched to the frame/forks.
Re-chromed lucky 7 seat post
Sewn-edge Messinger long-spring saddle beautifully restored by Bob Ujsaszi. Comfortable.
Original 1930's crossbar handlebars
Original 1930's Klaxon
White glass-jeweled coke bottle grips – reproduction
Mint in box NOS Notario rat trap pedals from Spain – 1960s
NOS 28" drop stand, never mounted
Hand-made "Bloody Mary" hardwood fenders with compound curve, signed and dated by Cody of Woodys Fenders, Bend Oregon. These are beautiful pieces of art in their own right, made with African Mahogany, Wenge and Blood Wood. SS stays and brass hardware.
Rim/tire set-up – Velocity Blunt 35's, SS double-butted spokes, Sturmey Archer XL-FD front drum brake, Nexus 3 speed with adapted skiptooth sprocket. Rims were powder-coated to match the blue and yellow on the CA plate, and then pinstriped. Tires are Duro 700x38. These make the bike fast and smooth and give it excellent braking ability. You just need to keep the psi up around 50+. Cruises best in 2nd gear, but if there is a hill 1st comes in handy. I have passed road bikes with riders wearing fake sponsorship spandex with just a little effort in 3rd.
Boxkar shifter
Custom Lighting:

Amazing 12v LED lighting system featuring a large LIPO battery used for RC airplanes with quick disconnects, housed in a vintage style Delta battery can wrapped in an authentic, original paint 1928 California license plate. There is a lighted, push button 12V LED on-off switch on the side of the can.
Lucas Calcia Club No. 143 calcium carbide bicycle light dated 1928, converted to a 12v LED halo on the front, with a 12v LED vintage style motorcycle taillight for the rear fender.
All wiring is modern vintage-style cloth covered or steel braided Fender guitar wiring, and connections soldered with heat shrink tubing. There are many hours testing and wiring this set-up, but all worth it.
The jeweled coke bottle grips also have LED lights inside them, the first time I have seen it done, with the wiring running up through the inside of the handlebars. An idea that I had many years ago and finally executed it for this bike.
Comes with an extra battery and I'll include my own personal LIPO battery charger so you can charge it when it finally runs down (about $125) I'll buy another one. What is remarkable is that I built this bike 14 months ago in the summer of 2020, and the battery was charged and plugged in to the harness in August 2020, and I have gone on many night rides over the last year and it is still very bright, not even a hint that it needs a charge yet. Lights run cool and bright. Update July 4th, 2023 the lights are still bright on the first charge back in August 2020! It could probably use a charge but night rides still possible.

For finishing touches I reached out to Steve Vandemon and had him give the frame and forks some tasteful period box pins with a little TOC design on the top bar, and he skillfully matched the tank to the existing patina on the frame. He is very talented and is worth a look here: (or Google him)
https://www.facebook.com/media/set/?set=a.730384693676081.1073741836.141025065945383&type=3

I hate to sell this bike but I am in the middle of building three more and I am running out of room. I have ridden this one about 100-120 comfortable, carefree miles, and stored in my bedroom.

$2,850.00 OBO -

Now $1795.00!

Now $1695.00!

reduced over $1100.00!

cash or PayPal Friends and Family.

or $1,550.00 without the seat

. The seat is like a jewel.

I will personally deliver this bike to your door within 50 miles, or you are welcome to pick it up in Orange County, CA. I will not ship but if you want to arrange for shipping (I would recommend shipping in one piece) I will happily drop it off to your shipper and help pack it up. If you are local, come by and take it for a ride...

Mike Shickler, Huntington Beach
Maiden ride. 98% complete.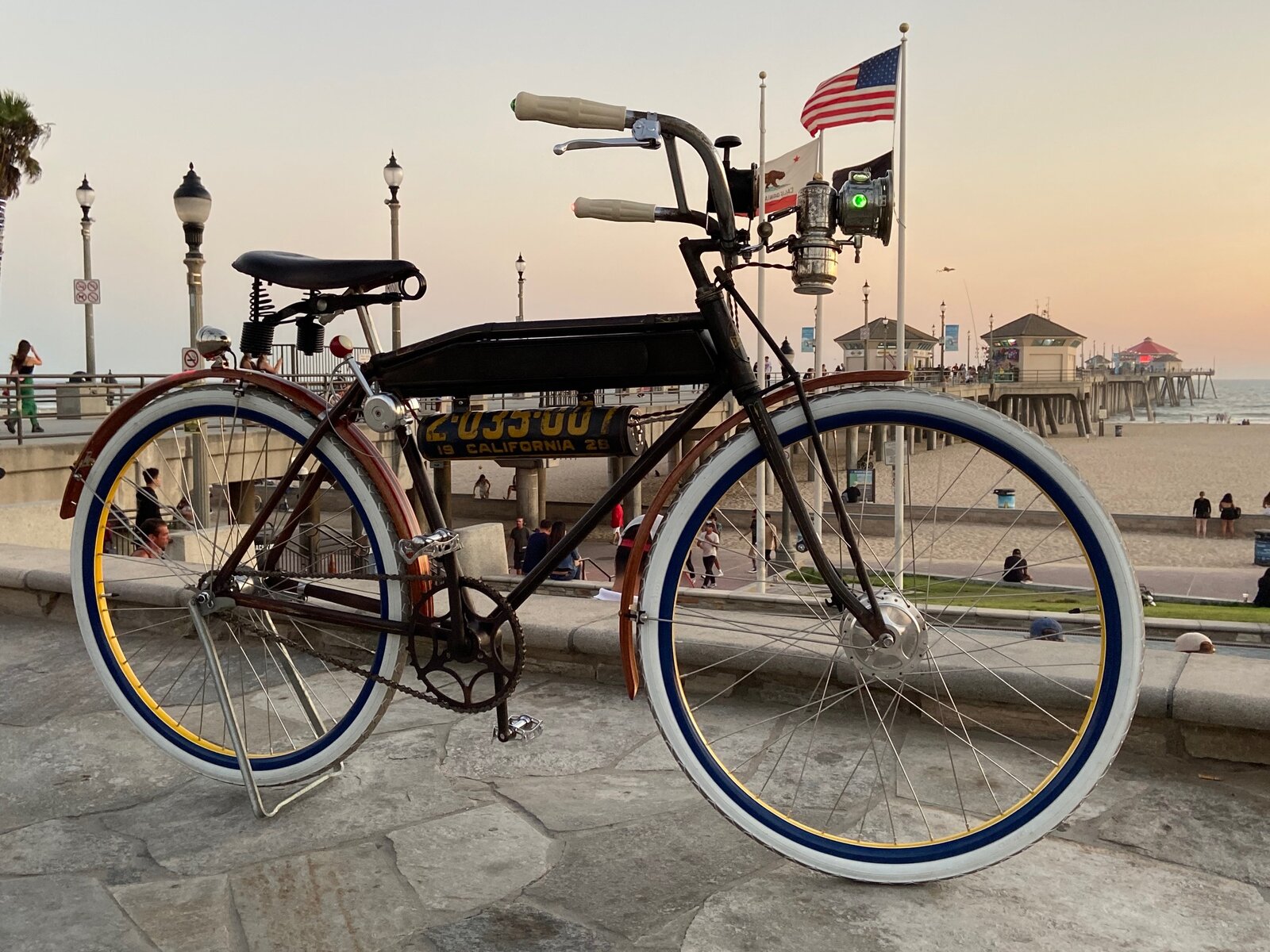 Last edited: