Riding a '38 Autocycle Deluxe
For sale is a 1930s-40s era Birmingham Phillips rod brake roadster. This is a true, Birmingham-era Phillips, not a later Raleigh. I rebuilt this old bike and went over everything in 2018. Since then, I have not put many miles on it, and it has only been ridden in nice weather. I've periodically oiled and cleaned the items that need it.
28 x 1-1/2 wheels and a 22 inch steel frame. The smaller 22 inch frame is harder to find than the tall 24 inches.
Rear hub is an early Sturmey Archer AW with small imprint and no date code. Front is a Phillips with oiler.
Both hubs inspected, rebuilt, and re-greased in 2018. Not many miles have been put on the bike since then.
Bike always ridden in good weather, never in rain or snow or road salt.
Paint is mostly original - black with some touch up areas. The white patch on the rear fender is re-painted with an aged white color. The white was re-painted after measuring the original area, matching it, and carefully painting, smoothing and polishing to go with the bike.
Rear reflector is an older model with a metal frame around it, painted to match the rear fender.
Has a 1930s era Sturmey Archer quadrant shifter.
Old style black-out Sturmey pulley.
New shifter cable.
Rims and spokes are new - wheelmaster standard spokes and westwood rims.
Rubber items are new: brake pads, grips, tubes, tires
Old style "gallows" seat post.
Has a brand new Gyes leather three-spring roadster saddle. Saddle comes with little bag with wrench, tightener string, and instructions. Gyes is a mid-range leather saddle maker. Their saddles are not as expensive as Brooks, but considerably better than the very cheap, Chinese-made leather ones. The Gyes saddle is fully adjustable in a manner similar to Brooks with a tensioner and wrench. It is brand new and ready to be broken in by the next owner.
Original cranks and chainring "Phillips"
Bottom bracket inspected, rebuilt, and regreased in 2018. Has been periodically oiled since then.
Chain is a new SRAM PC-1 1/8 x 1/2. It runs smoothly.
Rear cog is new - a 22 tooth larger cog to help with climbing hills.
Brakes inspected, cleaned, oiled, and adjusted. They work as well as old rod brakes will work.
Headset cleaned, lubricated, and adjusted in 2018.
Kickstand is a new Greenfield and matches the bike well. Kickstand has a nice, new rubber foot to keep the bike stable.
New pump and pump pegs. Pump pushes out air and comes with the little hose you need if you want to pump the tires.
Comes a nice, old Lucas bell.
Pedals are post-war waffle type.
This is a good bike if you want a mid-sized rod brake roadster (I'm 5ft 8in and can ride it with the seat down in the position shown. You can raise it if you're a little taller) that has been gone over and is a rider. It rides like the old, pre-war style roadsters where you sit straight up in the seat and ride high in the saddle. I can include a spare set of Birmingham Phillips cranks upon request at no extra charge.
Price is $275. Local pick up only at this time in Litchfield, Connecticut. If you want it shipped, you'll need to arrange with a nearby bike shop and I will drop it there.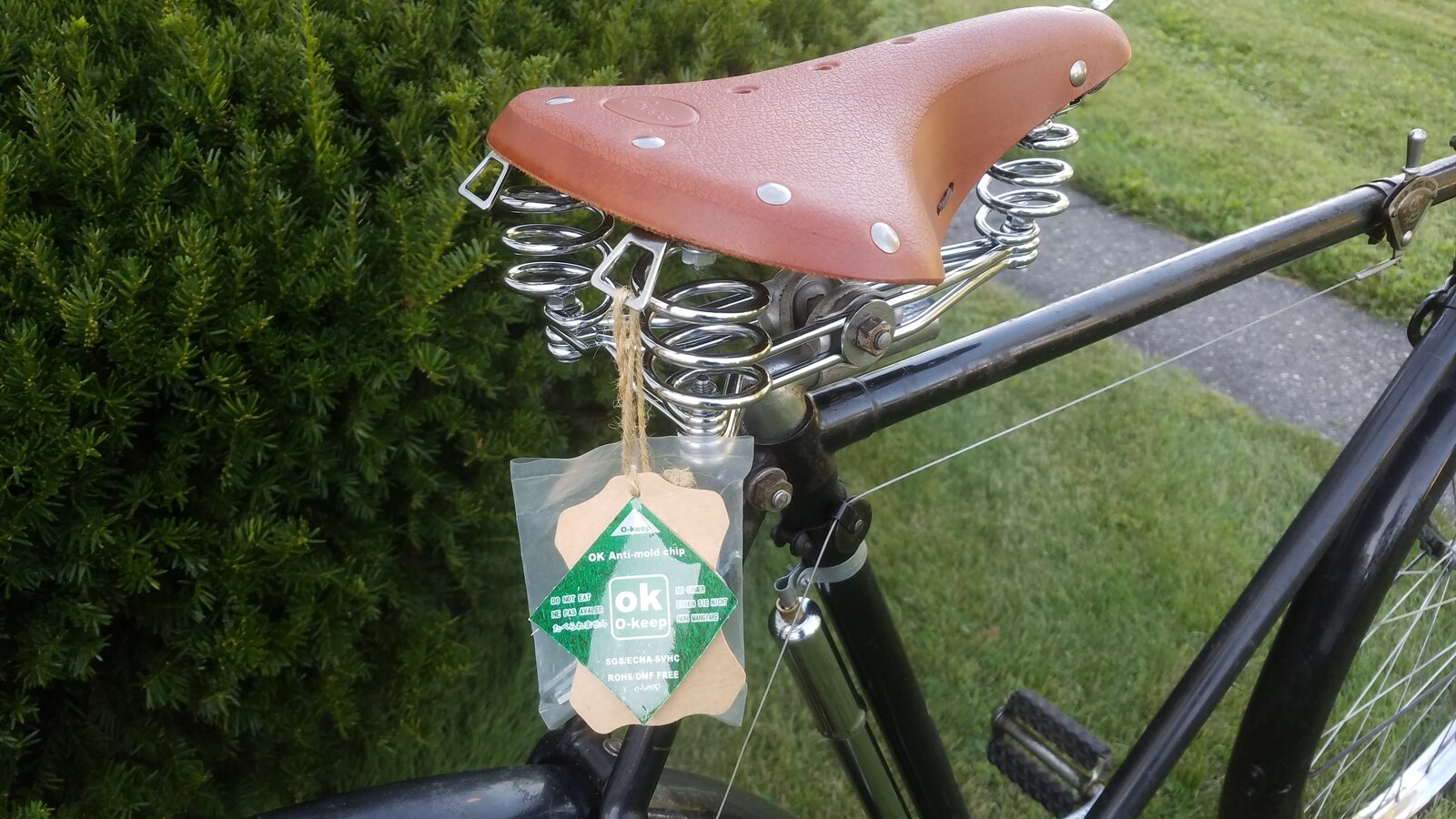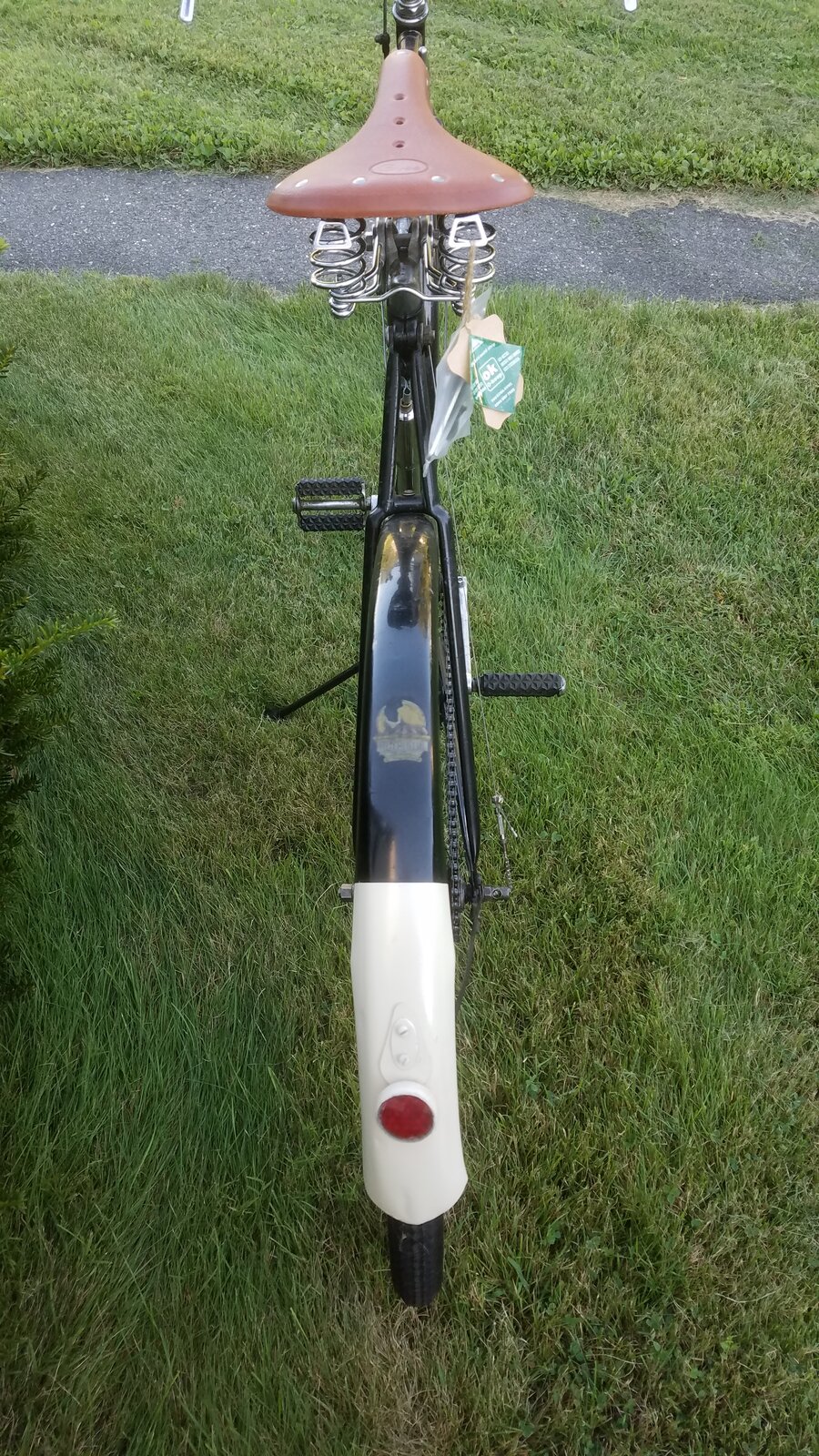 Last edited: