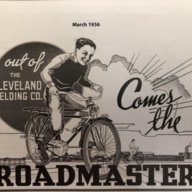 Mar 2, 2014
2,844
Sunny Southern California
Good luck with the sale. I hope that you get all the money in the world for it, but it sits idle because I think your $8200 over priced.

Even if this bike was 100% original paint and equipment, it still is not a 10k bike.

If it's your dads bike, I say keep it since there seems to be a sentimental value price on it.

If you are serious about selling it, I would recommend a realistic price and I'm sure a buyer will turn up.

Just my 2 cents for what it's worth.