Riding my '38 Deluxe Bluebird
Jul 21, 2011
5,450
2,331
Mpls, MN
Came from the original owner's widow, right out of their barn in West Virginia.
One of the nicest and most original Big Tanks you'll find. This is the Firestone one.
Appears all original except: tires, which we replaced with nice vintage style w/w's from Atkinson; grips which were were missing, but we had another '40 Huffman set and replaced those; also, 1940 was the only year that had a welded-on kickstand, they often broke off, and this one's original stand is off too, it has a period correct bolt on style replacement- likely done in the 40's by the original owner.
One lens is misshapen from heat. Missing a lower rear fender reflector, has two period correct ones added by orig owner we're guessing. Lights untested. Does still have the small switch/rod off the back of the rack, which is always missing (see pics of it in the original "Farm Fresh" thread noted below by Fordmike).
This has been one of the crown jewels in Nick's collection for years, and has won many trophies, including "Best Unrestored" bike at Ann Arbor show in April- but he's selling off a few bikes for a special car.
(And no, the Black Beauty isn't for sale, sorry!
)
*Posted more pics of seat and taillight switch further down in thread.
SOLD
Message if interested or need more info/pics.
Darcie/Nick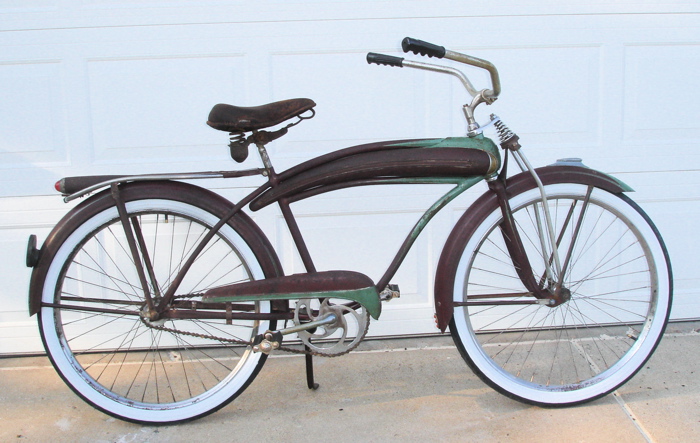 Last edited: