This is just an unbelievable find. 1941 original owner Shock ease fork long tank bike that resided its entire life in the farm town of Taft Calif. and story goes belonged to a girl whose mother rode her to school on the bike in the 1940s and had sat in storage ever since. As found the handle bars were rusty, as was the sprocket, rims, stem and seat post. The Stewart Warner speedo lens had shrunk, and the grips were missing.
The following was done to address these factors.
****Fully restored/rechromed original drop center rims, NOS Torrington spokes with long nipples, fully
restored/rechromed New Departure hubs.
**** Re nickel plated seat post
**** NOS Torrington handle bars NOS!
**** NICE orig coke bottle grips
**** Beautiful original replacement sprocket thanks to SM2501 here
**** Identical rechromed stem
***** Beautiful working deluxe Cadet speedometer with trip feature replacing the same original
***** Rider quality Goodyear G-3 tires
The bike is insanely bitchin in rare color combo Cobalt / hammertone Silver
with white pinstripes. The original Wald 8 style pedals show almost no wear whatsoever..
the paint shines like new, Original prewar Mesinger Saddle looks great ...no rips. Even
the cad plating on this bike has that NOS Goldish cast to it. Original 3 rib Delta looks
great, I did not put batteries in it but imagine it's fine. Shock ease works great...
Not shown is the original handle bar bell which goes with it. A classic prewar Shelby
bicycle owned by girls....hence the condition. Remarkable! Fully tuned up as well
and rides like a new bike! Unusual model you don't see too often in amazing shape!
1400 plus shipping
email
bobcycles@aol.com
or PM here
Picture heavy as bike is truly a Calif native work of art.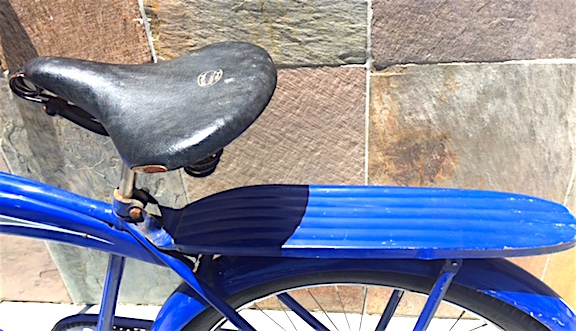 as found.... sorry state but still incredible preservation...thanks to dry climate ..