Wore out three sets of tires already!
I've enjoyed this bike the last couple of years but the time has come to pass it along. It's a '41 Excelsior badged Tall (20") C model. The bike was used by the main character in the film "The Neon Bible" which was filmed in Georgia.
I bought it from the prop director who said he purchased it from Cali for the film in the '90's and it sat in his basement ever since the film wrapped. The bike is a "custom" in the sense that the paint has been reimagined and it's a parts bike. I do believe there is a good amount of original paint under the overspray but I declined to see what's there as I like the paint. Appears to be originally maroon under the Schwinn decal.
I have built it up in a couple of configurations for my cruising enjoyment but because of the movie connection I'm going to sell as found.
Can deliver to Big Pete's New Georgia Swap this weekend
Shipping will be actual cost plus $50 packing
Here is the bike as found. For some reason the pics make the down tube look funky but it's not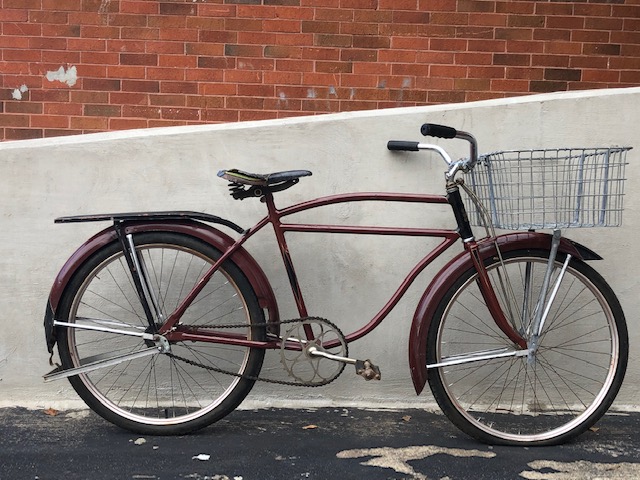 When I bought the bike I built up a new set of wheels for it so the originals will need to be serviced. They're a nice set of drop centers with added maroon pins. Broken spoke or two and hubs will need to be serviced. I went though the rest of the bike and added a correct Schwinn script headset from Bob U. I thought the brass nut that was on it looked better with the badge and brass nuts on truss rods so thats how it will go. Has an AS & CO 41 crank, nice sweetheart sprocket, Torrington 8's, repop oval Schwinn chubbies, truss fork with nice truss rods, rack and drop stand. I also rebuilt the BB with nice Schwinn parts. And of course the basket... for all your lotion needs.... Looks like a modern Wald.
I recovered the seat that was on it... not perfect but it's a great rider. Can be seen here post #70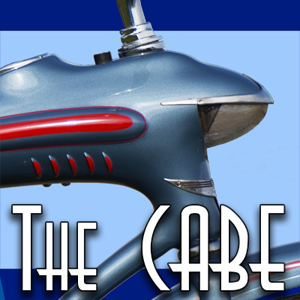 The question is do you want to do your seat cheap or do it right. The problem with using an old jacket or couch is it's the wrong type of leather. Veg tan is the only way to go. I've done hundreds of seats so I have some first hand knowledge. I use 3oz and I wet form it. It's the only way to get...

thecabe.com
If you search '41 Excelsior there are plenty of pics and posts about the bike. Here are a couple more pics... Questions? Need more pics? Just ask! Thanks for looking and happy bidding!!
Last edited: