Pulled out of storage in central Oklahoma last week, most of a 1942 Schwinn Cycle Truck. Serial number I40558
Edit: Please note, I have no intention nor desire to part this bike out. It managed to stay together for 80 years and I believe it deserves to continue that way.
It's got a few layers of paint, which is peeling off. Black out hubs, painted silver - that flakes off rather easily. Chain wheel and crank are probably black out as well. Missing drop stand, brackets, basket, D bolt for the seat clamp, and I am sure a few other parts. I looked around the property it came from and didn't see the rest of the missing parts unfortunately. It was missing a rear fender brace, I stole one from an old Schwinn fender I had in the loft, at least it doesn't flop around. There is a hole in the rear fender, where it was torn off a brace some time last century I would guess. No missing spokes, wheels look to be in fairly good shape, not hops or out of true.
Both fenders have some damage to them, mostly at the rear of them. The stem has a repair near the top, looks like someone welded a crack in the stem. It is solid, just ugly. One of the axle tension screws is broken also.
Everything moves as it should, crank spins, fork turns in the headset easily, wheels spin. Tires are rotted, it had a Silvertown on the rear, which came apart after airing it up overnight, now it has an American Clipper. Some kind of 20" knobby tire on the front.
It does come with it's chain, although there is no master link and the chain needs some attention, it has been neglected, although it does move to some degree. A rusted out Messinger saddle, needs a new top pan, the frame is good. It also comes with the ladies Messinger saddle on it, as you will need the hardware to clamp a saddle to the seat post and I know the clamp set up can be fun to find.
The frame is solid, I can't find any rust damage to it, no visible dings or damage. I think the left crank arm is bent a little, it does tap the chain stay as it rotates. I just don't want to take anything apart as I will fall in love with this and you know how that goes.
I am going to flood this with photos. Any questions, please pm me.
Shipping will be actual cost, I can ship it or drop it at a shop that does. I would prefer cash, check or money order on payment. Although I am set up to take credit card payment through paypal.
I can deliver it in a hundred mile radius of where I live for gas.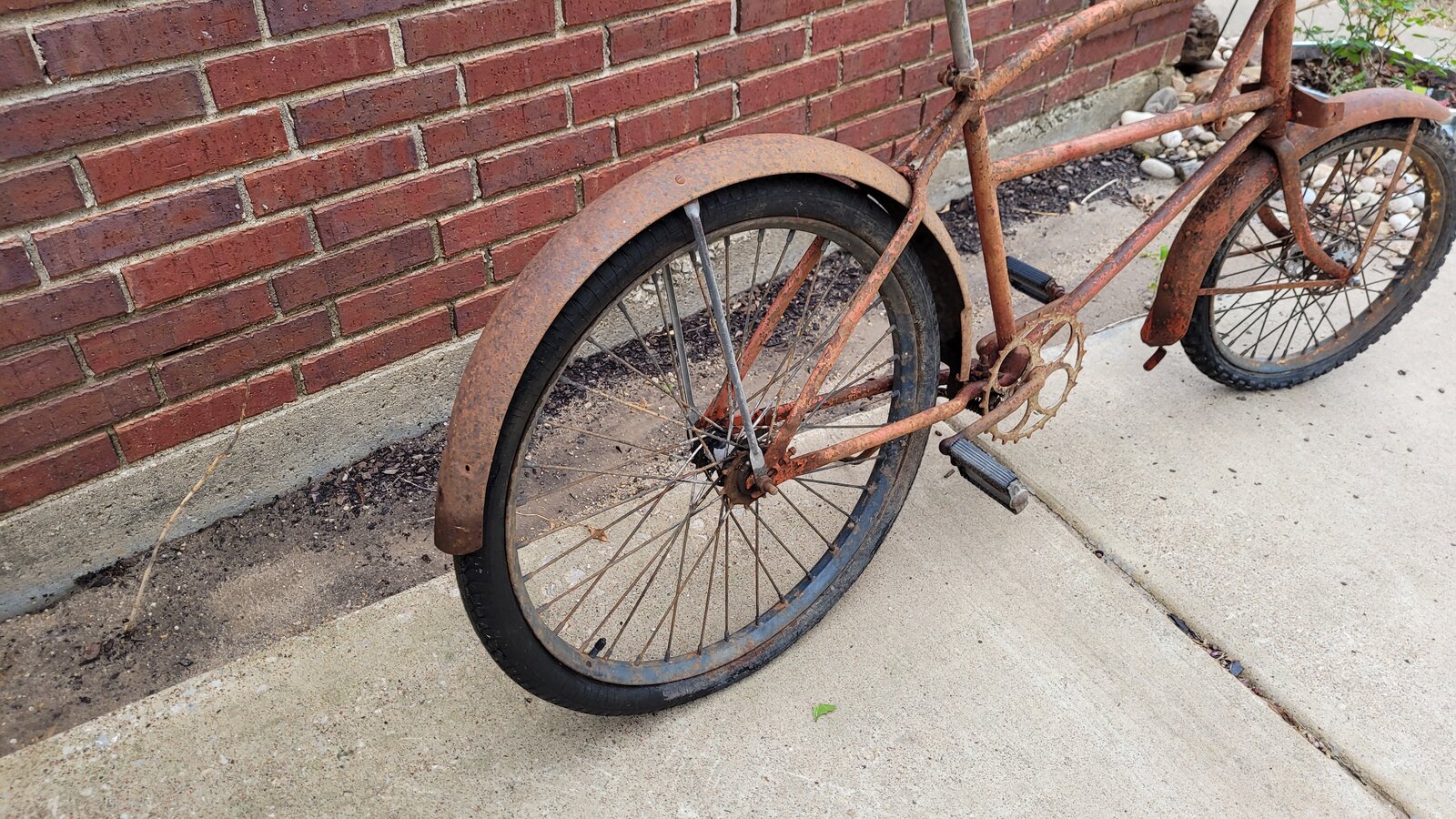 Last edited: