Reading some of the threads on here got me interested in the Schwinn New Worlds, and then this one showed up on Ebay, so you can guess the rest. I paid full retail, and then I spent as much again taking Amtrak to go pick it up, so I'm already in the hole on this one, but luckily I've still got my day job. Going by the hub, this one dates to 1949 which looks right, but I was surprised to see the rims, which are Schwinn Stainless S-6's. I've seen pictures of stainless S-2's, but this is the first time I've heard of stainless rims for the lightweights (although when I went looking,
@HARPO
mentions that he's got stainless rims on his 1946 Continental).
The pre-war lightweights used Schwinn Superior rims, and there's a good picture halfway down page 4 in this thread: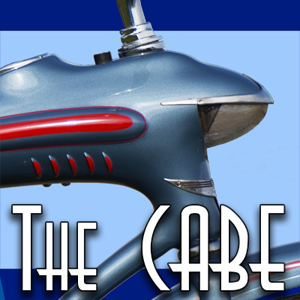 @GenuineRides The patent angle is usually a good avenue to try. Here though, it doesn't work out because the Europeans had been using rear drop outs for several years before Schwinn started on the New Worlds in 1940. From what others have written, it seems like the Schwinn family spent some...
thecabe.com
But others in this thread have painted or rusty rims, which leaves me with questions:
Is the bead seat diameter of the Superior rims 597 mm? I've read somewhere that some Schwinn lightweights used 599 mm rims, but I don't know if this was the Superiors or some Schwinn bought in. Come to think of it, I don't really know if Schwinn made the Superiors or had them made by somebody else.
I'm guessing that the S-6 and S-2 rims were introduced at about the same time (late '40's) and stainless was an early experiment that was soon dropped, but there are people on here who have seen more of these than I have. Any observations to contribute?
I know that I'm obsessing over details and 99.99% of the world couldn't care less, but that's why I come to the CABE!