Riding a '38 Autocycle Deluxe
Nice survivor Schwinn Panther ladies bike.. Cool bike with the white accents, orig Schwinn grips, original USA Delta mfg Rocket Ray
and Mesinger Schwinn badged seat. Overall presents well, has not been serviced but seems solid and sound, rolls smooth!
Only issues being the usual 9 hole rack minor splits at the top leg mount. Very nice original S2 Wheels with only
one tiny edge ding like a pencil point tires show wear and are US Royal Chain tread, one tire does have a split ..
comes with a spare Chaintread tire replacement.

Super straight dent free original chrome Panther fenders. Original Bottle cap pedals have even survived relatively well!
Bike does not need much and is 100% complete with all Made in USA parts.
475.00 plus the shipping, no extra packing/handling charges.
roughly 90 bux coast to coast...less closer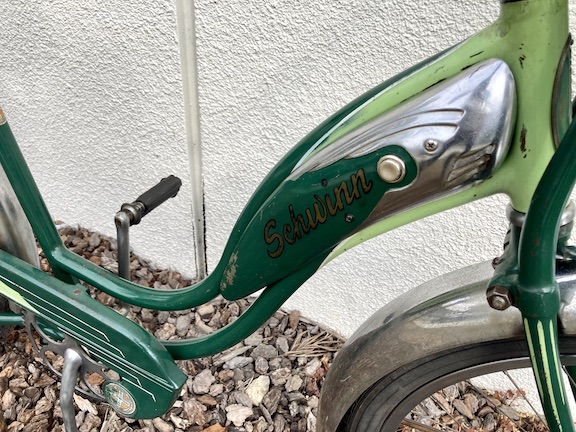 Last edited: