Wore out three sets of tires already!
Rare and hard to find 1964 King Size American Schwinn frame / guard, it was repainted at some point and still has the factory black underneath. For those of you who don't know these were build from 1961 - 1965 as a tall frame option for taller riders. The seat tube is 20" CTT and the top tube in 22.5" CTC for more reach than the standard Schwinn canti-frame. If you need more detail on the history of these bikes send me a PM.
I bought it without the KS fork, with the intent of building a King Size custom, but I have now moved on to other projects. The head tube is taller so regular size Schwinn forks steer tubes are too short. So, please note as pictured it has a Schwinn Speedster fork on it that works very well with the frame and will support up to a 2.0 tire (even some 2.125s) without fenders.. I have built custom KS using these forks and the bikes ride very well and look great. Frame is in very good shape with no repairs or damage except for dents in chain guard. It is ready to be built and put back on the road again.
$260 shipped from Texas.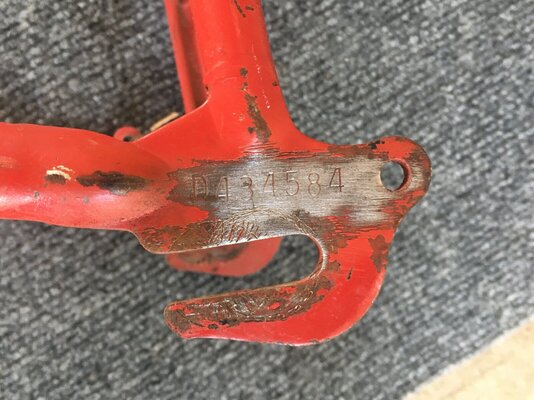 Last edited: