Finally riding a big boys bike
Well, I'm done.
Paid $1400 for the bike and put about $650 into it. It cost me around $2050 to get to this point.
I know you guys who bought these when they were 4-800 bucks probably think that's a ridiculous amount of money for an old bike like this, and, your right. But seeing the prices keep going up made me decide I had better jump at the chance to purchase a local one. The eBay offerings scare me...
I actually had buyers remorse the day after I got it home and posted it back up on CR for what I paid for it. LOL!
Fortunately, nobody responded that day. I thought about it and decided to go ahead and see what I could do with it.
I did not have spare parts, like a lot of you, so I had to purchase everything it needed and pay for shipping which added to the cost.
The incorrect, but original seat, turned out to be worth a bit of money so that saved me some cash on the restoration.
I have never restored anything before, car, bike, etc., so it was a learning experience. Seems every time I turned around I realized that I was missing a piece like a cable clip or something. Don't know what'cha don't know and all that.
I replaced the shock springs with heavier ones to make it sag less and added the sissybar cross brace to keep everything a little tighter in the rear. I plan on riding this bike.
l
th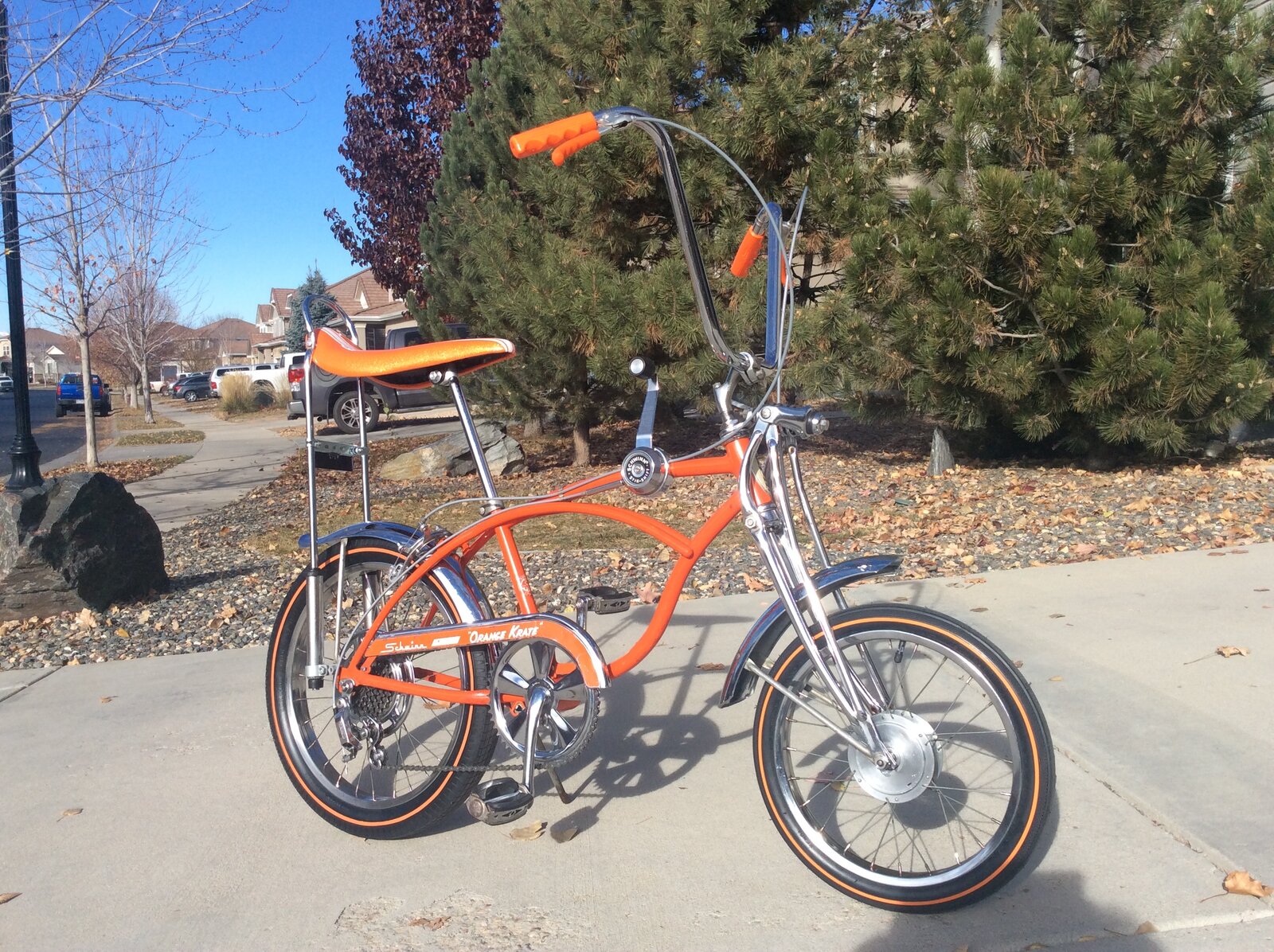 be
ar
All the bearing sections were overhauled. The races weren't in bad shape at all and everything moves pretty smoothly now.
The chain guard decal was a ghost of its former self so that, and all the decals are new.
The grips are repops. The lever covers aren't NOS, repops or anything original at all. I just liked 'em back then and wanted the look on this bike.
I switched the 1970 handlebar for a 1969 style.
The paint is original but I had to polish a lot of oxidization out of it. It was almost a pinkish hue before I started. It looked pretty bad.
I also lightly touched up the many scratches, being careful to "not paint outside the lines". I used a very thin liner brush, it took a while.
I resisted the urge to use more than one touch up coat and I think it looks better that way. I didn't want the frame to look like it had the measles. If you look closely you can still see the scratches, but they look more superficial than the nasty black gashes it had before.
I applied several coat of sealant/wax to bring back a little of the shine.
Considering the rough paint, the chrome was all very good. Fortunately, the bike had been bought and stored in Kansas so it wasn't exposed to corrosive moist air, or worse, coastal air.
I have the original front Superior tire but I wanted to paint an orange line on the front rubber so I bought a fresh donut and applied the paint. All the cool Krates in my hood had the color stripe upgrade and that what I wanted so this one has it too.
A big shout out to local fellow CABEr Pale Painter. He talked/texted me though many questions and even helped me with some bodywork. His patience is much appreciated.
I would also like to thank the many people on this forum who politely answered my many questions and helped me learn about the nuances of this project. There was some wonderful constructive criticism and some good input from you guys.
Last edited: