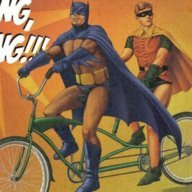 Riding a '38 Autocycle Deluxe
Oct 2, 2011
4,593
3,316
Bismarck, United States
Sold as a lot. $39 shipped USA.
Bells are complete with original hardware all 3 work well, not cleaned as found, nice condition. The larger bell is a double ringer, top and bottom striker with 2 sounds.
A fly, bee or ? is on the top and bottom but no maker mark that I found.
Clover leaf and basket weave bells are marked Germany.
Last edited: