Finally riding a big boys bike
Got a couple of items to complete this old girl. First was an appropriate Schwinn script glass reflector given to me from our friend,
@mr.cycleplane
. Yeah, it's cracked and terrible looking, but it works on "Cochina". Thank you Tyler. But the prize item just came recently. When
@rustyjones
bought the bike, the PO stated this '36 had an Excelsior badge originally. So Paul added an Excelsior shield badge. Cool. But then I saw the shadow of the original shaped badge. That shape I did not recognize. Asked Tyler, and said it is a footed Schwinn badge. So my hunt began for one. Of course a few CABErs helped in my search. There was one that I had a chance of getting, but I waited too long and it was already gone; there was a reason why. Well, this came recently, and I'm so stoked. I had asked a while ago, and
@bobcycles
surprised me with this. And it wasn't just a footed Schwinn badge; it's an Excelsior footed badge. What….my #1 choice; never thought I would find a footed Excelsior. Condition too matches very well, not perfect just like "Cochina". Very thrilled to have this badge. So a big thank you to Mr. U.
With her now original shape footed badge, this '36 Schwinn Double (curved) Bar Roadster LBA67 project I would say is now complete.
Pretty bad I know but it's a Schwinn scripted glass.
My first time realizing this badge shape.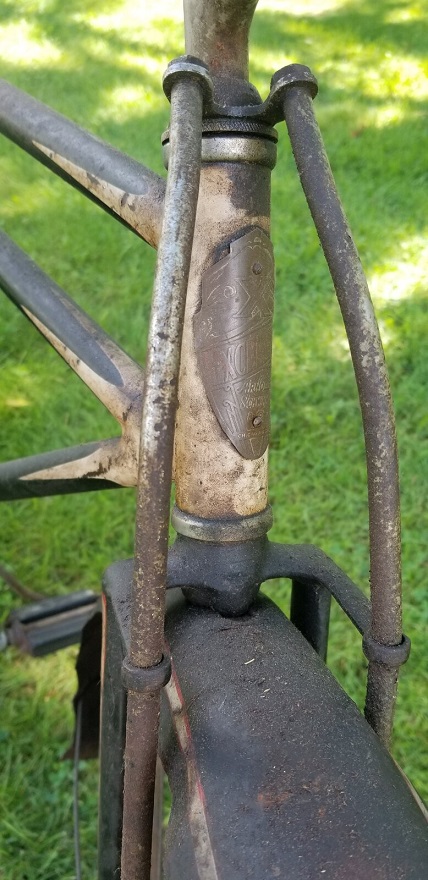 Image courtesy of
@rustyjones
Killer. I dig this look.
Thanks for letting me share Cochina's story here on the CABE. Eddie
Last edited: