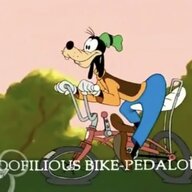 I'm the Wiz, and nobody beats me!
Aug 13, 2008
10,757
The Land of Oz
Bicycles and pedal cars are always a big hit at car shows! They provide a subtle distraction from the rows of restored autos. Even when not 'judged' are of interest to all age groups.
Definitely! My bikes out-showed the Corvette I was parked next to about three weeks ago!