Riding a '38 Autocycle Deluxe
Lots of interesting smalls and some from the 19th century to more recent...
May consider an offer on the lot.

1---Amateur Bicycle League State Champion Ohio 1927 with ribbon. Awesome embossed
imagery including cyclist and iconic Flying Wheel. Competitors award. Medallion measures
1" 3/4 height
Unsure of the value on some of these items... so if the price seems out of line?
by all means make BEST OFFER.
45.00 plus add postage

Bobcycles@aol.com
or PM here

2---- Two 1940s era Schwinn dealer give-away pins! One featuring the Paramount,
one featuring a BA 107 Autocycle...Good shape overall! Both for
25.00 shipped!




3----Super Spiffy CAMPAGNOLO Belt buckle and Large Dealer decal! Nice shape unstuck!
Buckle measures about 2 and 1/2 across, decal is pretty large.
40.00 OBO for both plus add the postage


4------CHARLES V BARRETT Athletic Club----5th Elgin to Chicago Handicap Bicycle Road Race. 9-28-1930 46th place.
Measures about 1 1/2" tall
25.00 OBO shipped!
5- "Won By George Thomfisen Georgetown May 25, 1896" ...yep 1896! measures 1 and 1/4"
35.00 shipped



6-----Neat old IVER JOHNSON wrench, works well, plating is still very good on this one!
40.00 shipped OBO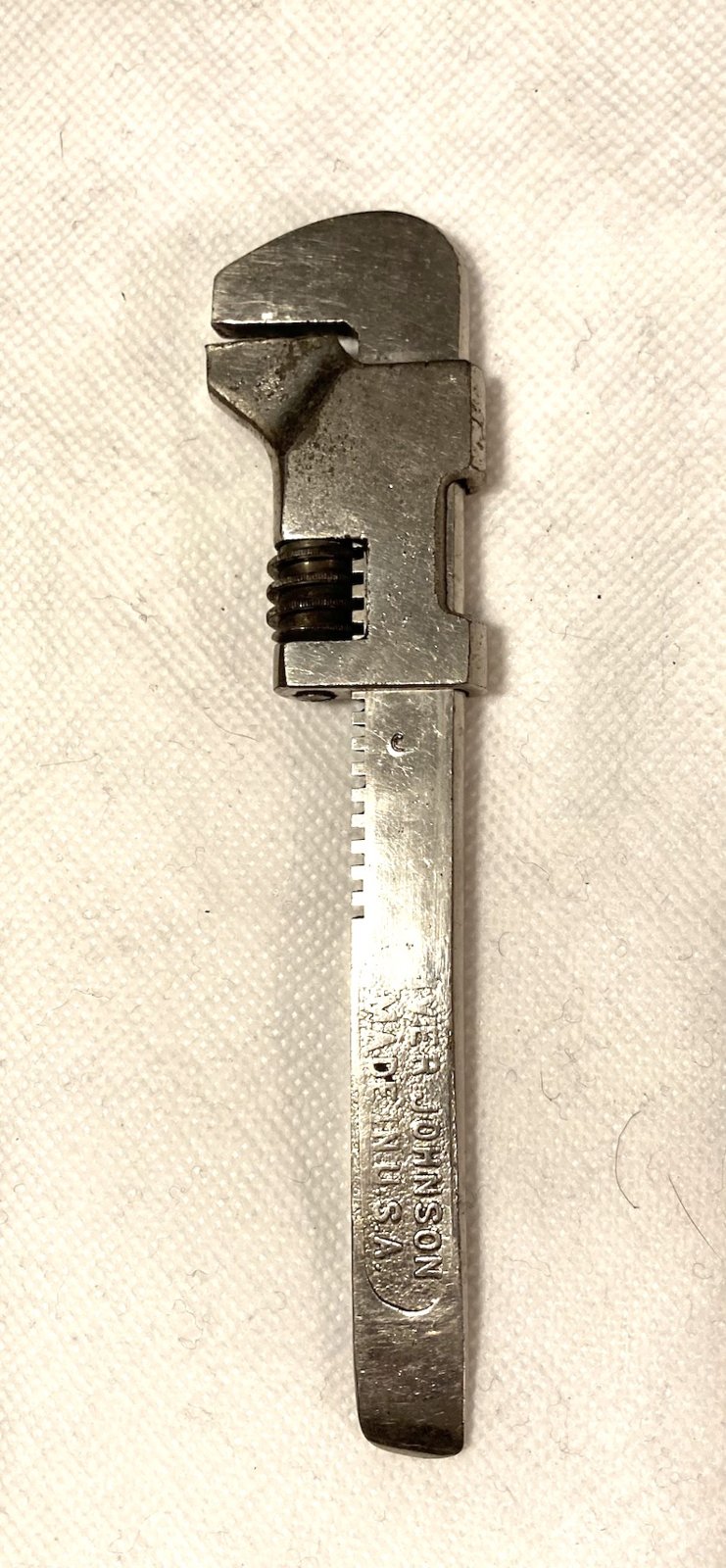 7--- SUPER ornate and fantastically detailed Tea Spoon for ORIENT cycles.... "Lead the leaders" engraved
in the handle, and check out the Crank and Pedal detail for heavens sake! So killer!
60.00 Shipped OBO
8--- Super ornate NEW DEPARTURE letter opener...100 year old + piece! Just gorgeous! Measures just about 5 inches.
90.00 Shipped! Firm!



9------"Emblem" Bicycle Racing medal 1-2-1928 2.5 Mile Sr Bike Champ J. Duarte
RSX maker Neat piece measures 1 1/2" length. There is a lot of glare on the back which
appears to be scratches overriding the text, in person it is much much clearer.
30.00 Shipped!