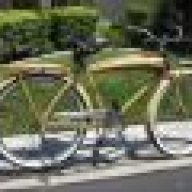 Wore out three sets of tires already!
Oct 23, 2011
856
Las Vegas
Okay guys, the Elgin has developed an odd "clanking" noise when riding lately. I can't seem to pinpoint it. If you have any clues, here are the specifics.
Sounds like metal hitting the frame, like a hammer or something.
It is
irregular
. So while pedaling,
or
coasting it happens.
Not the seat springs, no fender rubs, nothing stuck in the wheels or tires.
No loose fender nuts.
It started at the end of a 3 mile ride with no warning
I thought it was the hub so I disassembled the whole thing. It looked fine. Now it clanks
only
when I'm riding the bike. With it sitting on the drop stand I can pedal it all day and it's smooth and sweet.
Thoughts:
A bad frame break somewhere yet to be found
My skip tooth chain is stretched a little, but I'm not having any chain jump or slippage under load...could it be this?