Finally riding a big boys bike
Jul 26, 2015
406
Fort Recovery, United States
Hey, everybody! Looking for any help you kind ladies and gentlemen can give me to finish my barn find Pacemaker properly. I bought this from a guy's scrap metal pile this past fall after he had pulled it from his barn along with 2 other bikes. He knew this bike wasn't necessarily scrap but he just wanted to get rid of the whole trailer. I was happy to oblige him. At some point, it looks as though this man's son had perhaps mixed some parts between the bikes.
When we had the warm snap this week, I finished disassembling the entire bike. I did my usual rehab which is to leave the patina, straighten mechanical parts, remove surface rust but not disturb paint, put a nice even coating of linseed on the painted parts, grease everything properly, and then reassemble it to ride like new. It's a peach that rides like a champ now. I will redo things in the future as I see fit but I'm loving the results so far.
Here are my questions and sorry for the novel beforehand....
- I've done some extensive research to try and pin down the exact year. Most of my info was gathered from great threads on The CABE but I'm still unsure. The man I purchased this from said it was a "World's Fair" bike but I'm not too sure after all I've read. This has the pinched fenders, the seat post collar is part of the frame, etc. I'm thinking this is not a 1939 so any help identifying the year would be appreciated.
- from the dozens of images and ads I've found online in the past few months, I can't decide about a few parts. I've seen Pacemakers with Torrington 8's and Persons teardrops. This one had the 8's on it when I purchased it but the other 2 bikes had teardrops and Person's Supreme pedals respectively. Any help knowing which of these 3 sets belonged on this Pacemaker is appreciated.
- I saw two examples of the Pacemakers with art deco goosenecks on them. This one had a Snyder art deco stem when I purchased it. Is that the correct stem? Also, this has Torrington bars but I don't think these are the correct shape. Another of the bikes has what I would guess are the correct bars but they're jacked a bit on one side. Any insight on whether my handlebars are original? This had the correct grips which I kept but they are a trainwreck with the points gone off both ends. I'm undecided whether I should put them back on at some point but can decide on that later. The right side shroud is also cracked and missing a bit of the bottom but I can handle that unless someone has a right side lying around somewhere!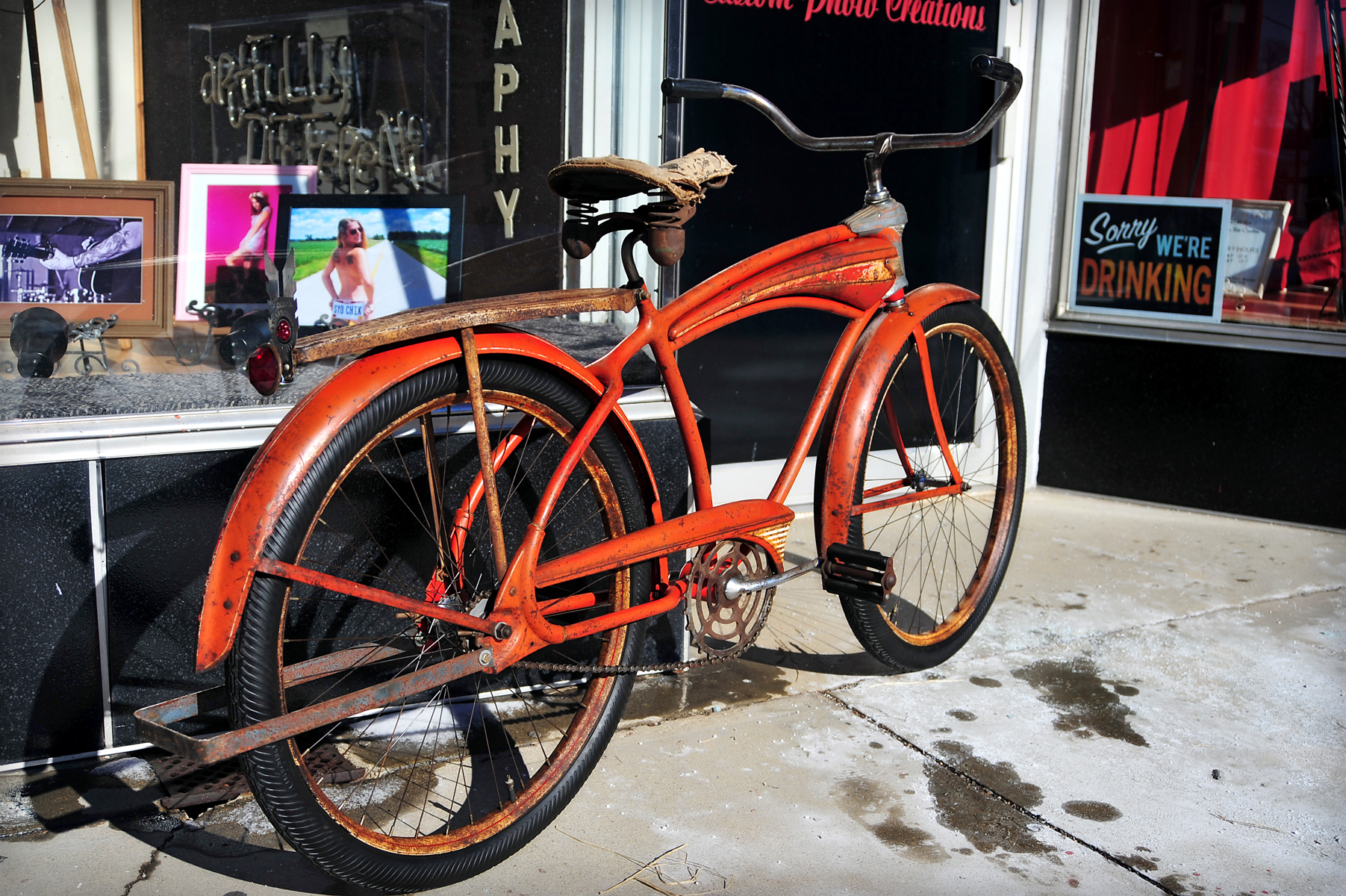 - the holes drilled into my fender look to be factory BUT they are completely offline with the center strip in the fender. Does this make sense to anyone? I would guess this had the Pacemaker fender ornament originally but are those off center a bit for some reason? Are the fender ornaments made that way? A little off center? I know that sounds naive but just a guess. No matter what I try putting on this fender it is whopper jawed and annoying. I may have to re-drill these holes or my OCD won't be able to stand what I eventually install on my fender whether it be a light or an ornament.
- finally, I am looking for the parts I need. If anyone has an ornament, grips, handlebars, or other correct parts I need, I would be highly interested.
I'm not going for pristine and I would never restore this since the original paint has such a beautiful patina but I would eventually like to get it to factory correct parts for my particular year. Thanks soooo very much for any help and insight. Have a great week!
Wade
Last edited: