Wore out three sets of tires already!
Things I have said too many times: "I can save that chrome", "That tank (or head light or seat or rack or...) should be pretty easy to find.", "It's not that bent" and "Looks like the paint will come back."
I found this 57 Columbia American in late January of this year. I have a heated garage and am lucky to be able to work in comfort all winter. This was a very mellow winter in New England and the heaters did not get used very much. I worked to bring the paint back a little... and a little was all I was going to get.
I did marginally better with the chrome.
That seat kept springing back to the squashed slant you can see above. I was tempted to name the bike "Fat Albert" after the original owner that I conjured up as I repeatedly un-squashed the saddle and tried to tighten the front nut enough to force the seat to keep it's intended shape. I had some luck when I moved the seat spring "U" frame to the back side of the two pan bolts. I expect to hear it twang back to "parallelogram" form with a sound like a mouse trap late some night. My bedroom is above the garage.
The bike was sold to me with the fork locked. This task was the only one where my optimism was founded. $25 and a few minutes in the lock smith shop and I was able to push the bike directly to places instead of plotting an arc with my questionable knowledge of geometry.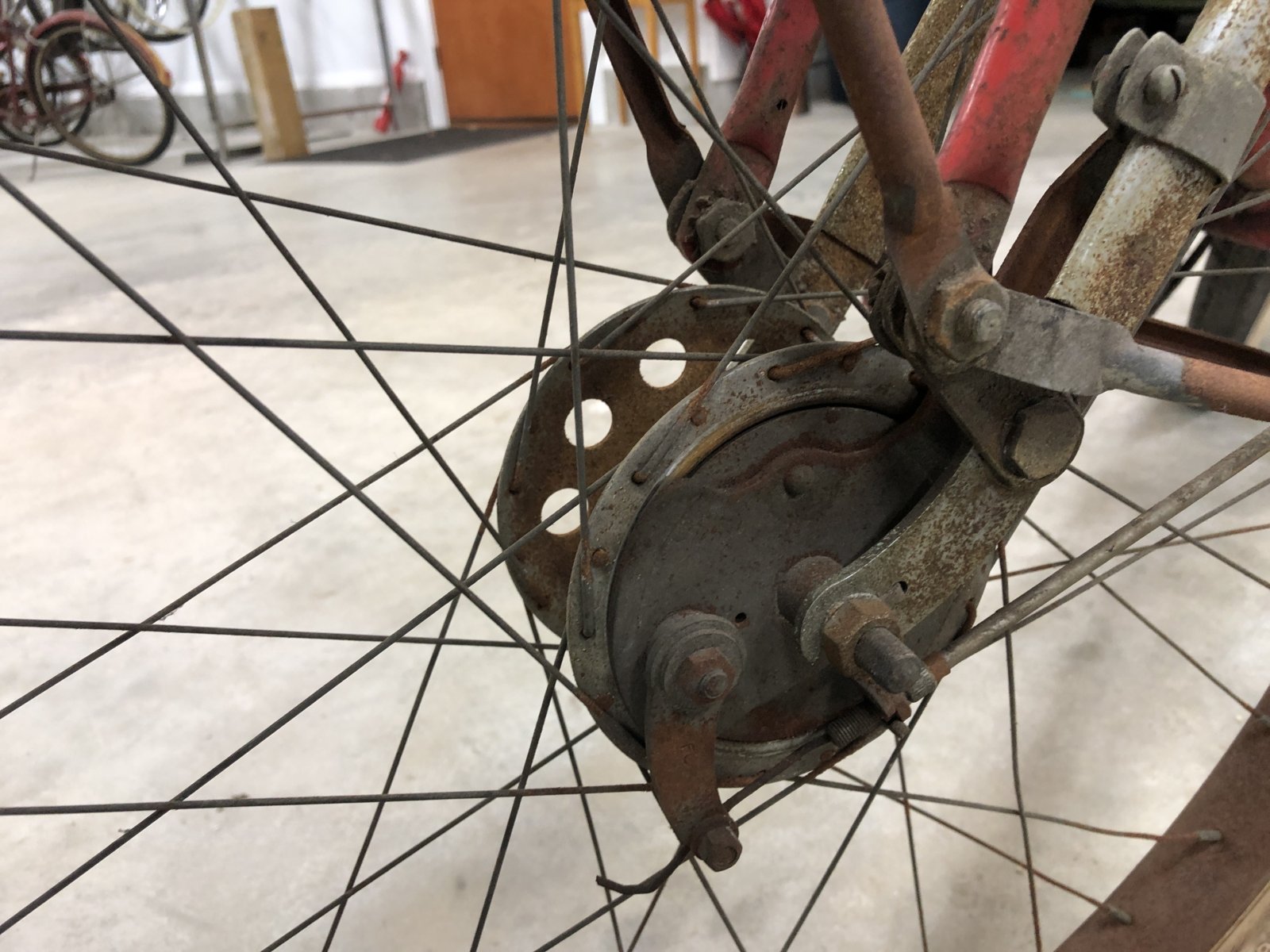 I was able to buy a donor reproduction bike for reasonable, sold off the frame, fenders and rack. I kept some things like the seat and pedals and used the tank, tires, rims and incorrect headlight on the American. I once had the correct torpedo light with 2 amber mini reflectors at 10 o'clock and 2 o'clock, but sold it on a $50 ladies bike.
I had bought out an old shop over the past few years and ended up with about 150 lbs of spokes. I broomed the colored ones and kept the rest. This winter, I taught myself how to build wheels with the help of Dave who used to work at the Columbia Factory. I got cocky and laced a Bendix 2 speed on the bike as well as the front original drum brake. I had some set backs in getting the length correct on the rear spokes as I had no built wheel of the same size to measure. I built this like I was going to ride it everywhere.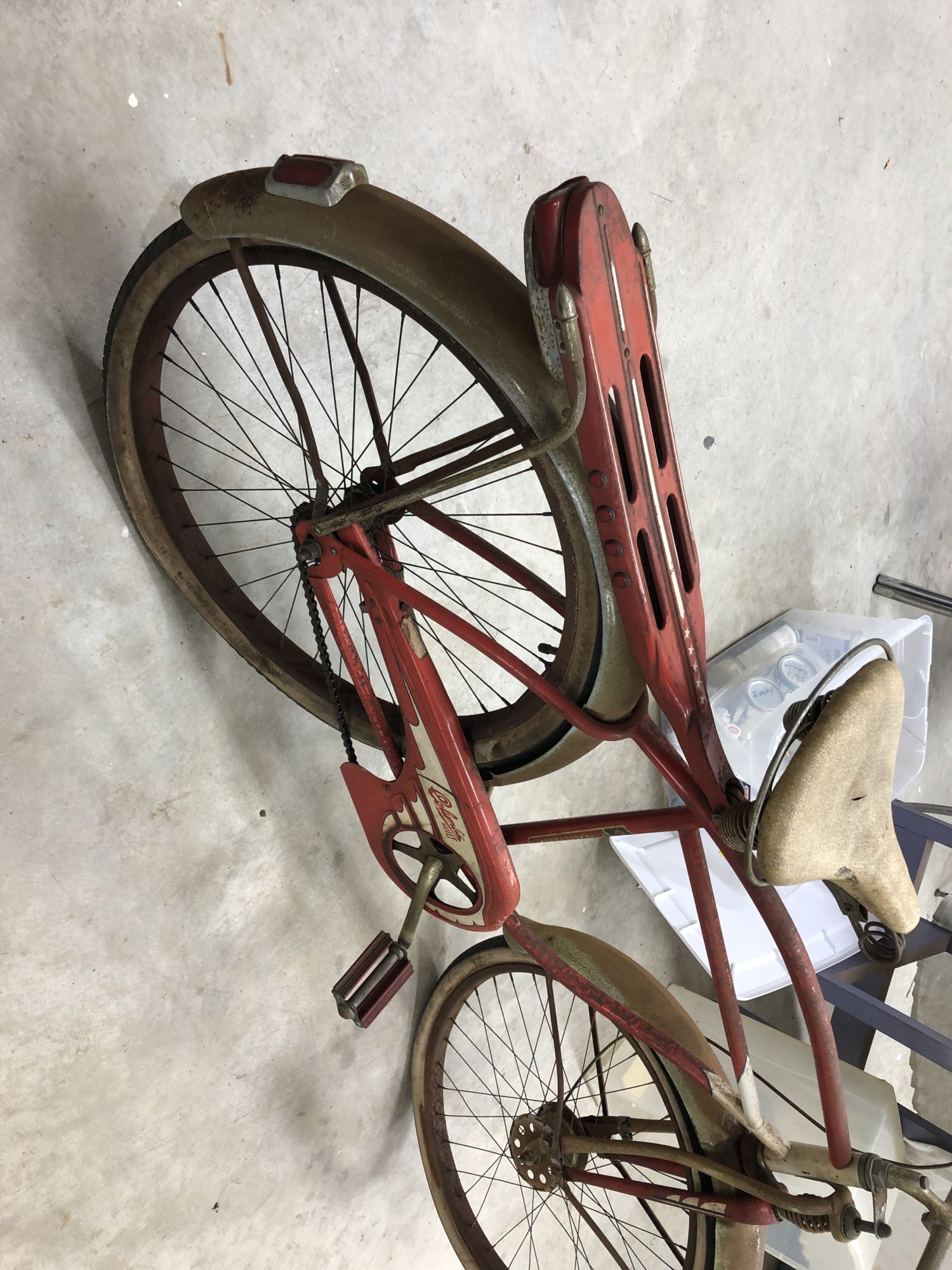 The paint match was a fiasco. Rattle can guesstimating yielded nothing close enough to work. I used the local auto parts guy who scanned the guard to get the paint code. The first attempt was just plain pink. We rescanned the guard and he suggested a 2 stage and to use a satin clear coat.
As you can see the paint is a bit too red and the satin made it too bumpy and thick looking. The vinyl pins are passable. I wish they would stop coming off.
So I was surprised to find out that the 4.5" Columbia Built decals are tough to locate. With no easy button available, I asked my sign guy to step out of his comfort zone and try to re-create the art on a simple clear sticker that mimics the water transfer. He made me a few 4.5" and a 3.5" that matched the sample I gave him so that he had an original on hand to get as close to correct as he could.
I thought he did a pretty nice job. I think these would be fine if they are stuck on white tanks. The dark paint took all the gold out of the sticker. What a shame. If anyone needs a set of the 3.5 or 4.5 and has a white back ground... I have a few pairs.
I tried to ride her yesterday and realized that the bike still need tweeking mechanically as well as aesthetically. It is headed for the back wall of the collection until winter. I will have another peek at Fat Alberta after a few months. I love the model and color, but I just do not want to do battle with her anymore this year.
Thanks,
Jim