Wore out three sets of tires already!
Ever since
@Mark Mattei
posted pictures of an NOS Bendix Green Band hub in the Obscure Parts thread (here:
https://thecabe.com/forum/threads/s...arts-and-accessories-thread.94988/post-834286
), I've been intrigued on what made it different from the blue and yellow band hubs. At the Memory Lanes swap a couple of weeks ago I came upon one in kind of rough condition, and I bought it so I could tear it apart and see what the deal was with these hubs.
While tearing it down, I immediately noticed something I hadn't expected....it's a single speed hub! There are no planetary gears and many of the parts from the 2 speed models are not there.
Here's a picture of the hub after cleaning: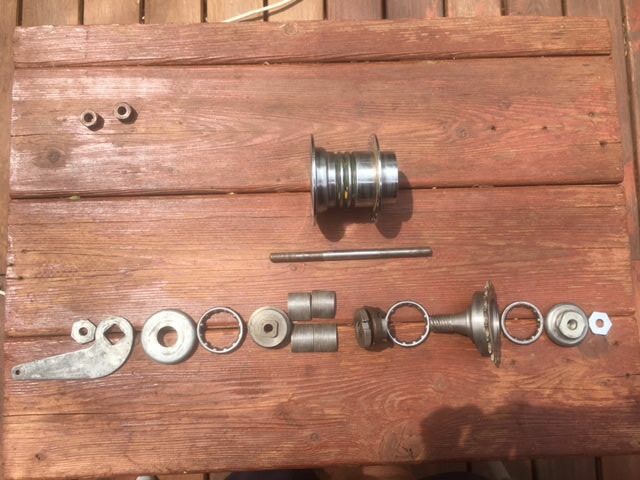 And here's the parts list:
AB-301 Hub Shell (looks like it was painted yellow then overlaid with green paint)
AB-304 Axle
BB-15 Locknut, arm side
AB-310 Brake Arm
AB-331 Dust cap, arm side
AB-16 Retainer
AB-333 Expander, anchor end
AB-322 Brake Shoes (4)
AB-312 Retarder spring clutch
AB-306 Expander, drive end
AB-303 Low Speed Driving Clutch
AB-16 Retainer
AB-??? Drive Screw (18 tooth cog, has low speed ACME threads)
AB-20 Retainer
AB-??? Adjusting Cone
BB-15 Locknut, drive side
The parts marked AB-??? are the only parts that are not shared between the Blue and Yellow band 2 speed hubs. Only the Drive screw and adjusting cone are different parts from the two speed versions for this hub. Even the shell appeared to have been painted yellow before being painted green at the factory. The brake arm is a standard yellow band arm which says that it's a two speed automatic. Liar!
Here's a few closeup shots of the parts that are different along with the hub shell and brake arm: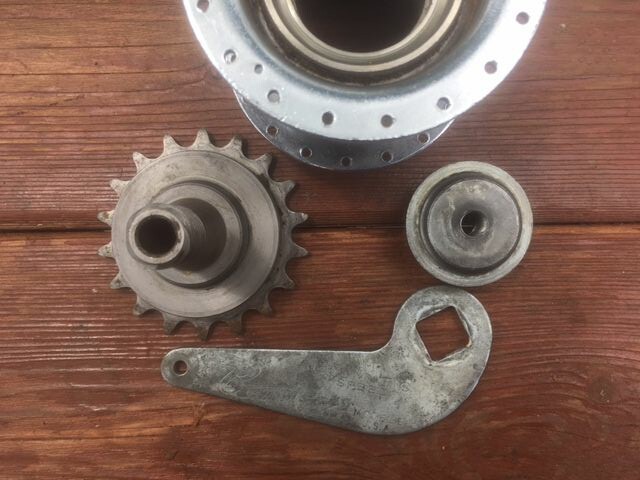 So the only thing I can conclude from this is that Bendix decided to market a single speed version of this hub for the "power brake" functionality without the 2 speed. Mark's hub looks like it has the .120 spoke holes so it does make some sense that it would be made for whizzers that could use the extra braking but not necessarily need the 2 speed functionality. Mine has the standard gauge spoke holes.
It was kind of fun to find this and to finally put to rest the mystery, even if it was a bit of a disappointment. Hope you enjoyed this post as much as I did tearing it apart
.