Riding a '38 Autocycle Deluxe
#1 1946 or 47 Schwinn Autocycle cantilever frame, bad repaint shiny tho, frame looks good
but was modified slightly for belt clearance for a Whizzer kit where the lower frame stay
was bent out slightly for belt clearance, could probably be bent back, or left as is. Decent
frame that is early out of the gate after WWII ...
90.00 plus the ride

Bobcycles@aol.com
or PM here


crank sold!
#2 Excellent original plating on a prewar dog legged crank and prewar 4 hole sprocket
from a deluxe ladies Hollywood! Nice orig prewar bottom bracket included. These cranks are actually
same length as the postwar Schwinn cranks and make good riders!
45.00 shipped!








#3 Vintage Battery lot! 2 nice 60s era Ray O Vac and a couple of 1940s era Everready. Nope
they don't work ...maybe the RAYO do... untested... Nice retro/vintage display pieces
45.00 shipped!


FORK SOLD----
#4 Prewar Schwinn Autocycle/ Motorbike etc locking truss fork ...Straight! Missing the struts but
the top collar is there and head set. lock works excellent. Threads have been rethreaded and easy
on and off for the head set!
165.00 shipped!






#5 Original Schwinn Phantom battery tray for the Fender Light fender...should clean up, not bad at
all just discolored surface rust... Plus untested late 40s -early 50s Delta Horn
Both for 45.00 shipped!


SPEEDO SOLD----
#6 Excellent original Schwinn 1960s era Speedometer that Works! With excellent 26" bicycle Drive cable
that Works!!! Complete set up
80.00 shipped!






#7 Black out New Departure War time hub set. NICE original black finish and white lettering. Nice
1940s matched set. I can swap out the 1" for 1/2" cog if required
60.00 plus the ride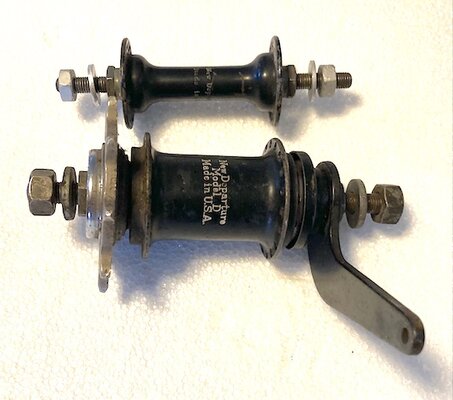 #8 Violent Schwinn stuff.... couple of "S" seats, one is decent still looks purplish.. both with posts..
Bars with violet grips and 1966 dated stem same as Stingray etc.
50.00 for all plus whatever the shipping turns out to be.
Last edited: