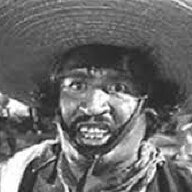 May 4, 2014
2,640
5,479
Planet Mongo
Better late then never.I figure I painted this Hawthorne about 12 years ago.The original peaked fenders had some good sized dents in the worst possible places. After straightening and painting them they still looked bad, even to Tinker's rough tolerances.
So.....this bike got buried in the back under Colson Command until I recently spotted these nice original blue fenders at a swap .
Dug out and installed some curved braces and maybe by the end of January I may have it assembled and detailed . The guard has the Hawthorne logo stamped into it. I will paint the script in dark blue and get some decals for the tank.
The problem is: "SHE" wants the wallpaper removed from the kitchen and the kitchen, dining room and THREE bedrooms PAINTED, by ME!!!!!!!!!!!!!!!!!!!!!!!! Right after Christmas!!!!
I think this is just plain WRONG! Oh my gosh , cutting into MY Bike Time!
" I aint gonna do no stinken PAINTING!!!!!!"