Broncho vs Bicycle - a tale of the Old West set into verse in the 19th century by John Wallace Crawford a.k.a Captain Jack, the Poet Scout. John Wallace Crawford held his own in the frontier drama that featured such flamboyant figures as Buffalo Bill Cody, Wild Bill Hickok, California Joe, Colorado Charley Utter, and Calamity Jane. He was a veteran scout of the Indian Campaigns of 1876, an early pioneer in the Black Hills, and a star in Buffalo Bill's Wild West Show. But most importantly, he was the only one of these celebrated heroes of the American West that chose to seek fame as a poet and playwright. The text is a humorous poem composed on the occasion of a dinner of the Boston Bicycle Club and tells the story of a race between a High Wheeler and horse.
There's a nice write up about it here from the University of Utah library blog -
https://blog.lib.utah.edu/book-of-the-week-broncho-vs-bicycle/
Broncho vs. Bicycle
was designed and printed in 1987 by Pamela Smith at the Press of The Palace of Governors in Santa Fe, with illustrations by Sarah Laughlin, and binding by Diana Bynum. Text is set in Goudy Light and printed on Nideggen paper. Bindings are made of awning canvas, sketch pad backing, and Fabriano Ingres papers. Printed in an edition of two hundred and fifty copies. This is #114 and is signed by Pamela Smith on the last page. 22pgs.
There is some slight fading to the cover otherwise it is in excellent condition.
$55.
NOW $40.
shipped to Cont. US. PayPal family/friends or Postal money order please. PM me if interested. Thanks !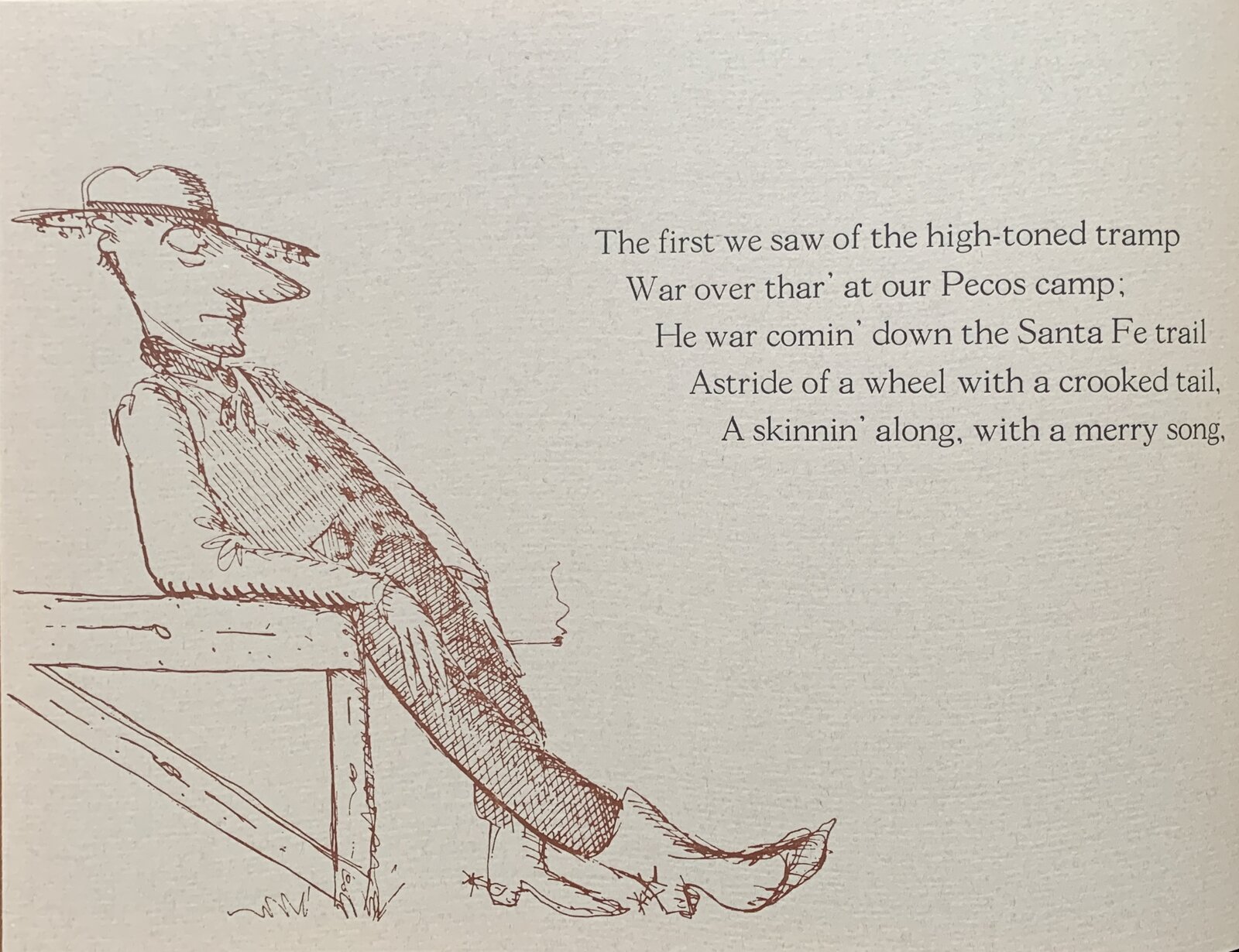 Last edited: