Wore out three sets of tires already!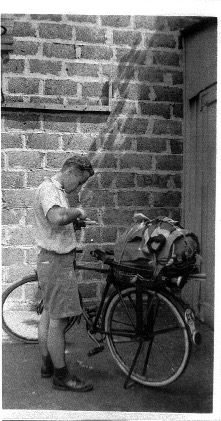 Fellow CABEers, this is Charles Schemmel.
It has been my pleasure and honor to have had the opportunity to work among the geriatric community for the last twenty two years. I've met many wonderful and interesting people, relationships that I will forever cherish.
As I first started working for my employer in 1999 as a Fitness Director, among one of my first clients and friends was Charles J. Schemmel. Despite his best intentions and efforts his physical condition prevented him from staying with a consistent program but we remained friends.
It wasn't long before my reputation as a cycling enthusiast spread through the community and Charles wasn't the least bit shy in sharing with me his marathon adventure in the Summer of 1940.
Charles was born February 14th, 1919 in Queens, NY. An only child, active in the Boy Scouts, his father died of kidney disease when he was thirteen.
As he told it, sometime after graduating from high school he had designs on planning a bicycle trip to Atlantic City, NJ but his mother forbid him to do so claiming it was too dangerous an undertaking. He persisted with his desire and, in a way compromised with her, by instead planning a safer bicycle trip to upstate NY, ultimately to Niagara Falls by way of Rochester where he had cousins. He planned the trip after his twenty-first birthday, and so as a full-fledged adult, his mother could not deny him.
He departed from his Queens home on July 9th, 1940, stopped at his place of employment, Porcelain Metals and crossed the George Washington Bridge over the Hudson by 1 pm. He was a meticulous record keeper of the trip, more of a ledger than a diary and this was a reflection of his pragmatic personality, but there was plenty of detail to stimulate the interest of any adventurer at heart.
He kept a record of every dime spent, every tire plugged and the numerous people he knew and stopped to see along the way. Not in his journal, but these were the days one could pull up to a farm house and pay for a breakfast if one were on a cycling adventure through the state, and he did.
Having done some fully equipped touring in my day and knowing what it takes, I was just in awe and utter amazement when he shared these photos with me. An over-ladened, single-speed, lightweight roadster, with no water bottle in sight (but as a good scout, I'm sure his canteen was buried in there somewhere). As an apprentice sheet metal mechanic, he fabricated the rear rack himself.
He peddled this rig solo for one whole month, 1046 miles through the New York state country side, often camping at roadside, to Rochester visiting family, then Buffalo, Niagara and back to Rochester before heading back home by way of Albany.
He arrived back at Queens on August 9th, 1940 at 815 pm. His total traveling expenditures were $50, not including $4 on the bicycle.
He returned to work at Edo Aircraft Corporation where he utilized his sheet metal skills and later served in the U.S. Army, South Pacific WWII. He continued his career as a sheet metal mechanic after the war.
In recognition of his amazing athletic endeavor, he earned himself a place on the "wall of fame" among other athlete residents in the gym at the community where he lived and I worked. I made a framed collection of these photos captioned with dates, milage achieved and the major stops along the way. He was thrilled.
Of course, I kept a copy of the photos for myself. And, Charlie allowed me to make a copy of his journal. It's a real treasure.
A few years later after completing nursing school, I transferred to a different community within the same organization where they had an immediate opening for me. I returned just once to visit Charlie who by then was in the skilled nursing level of care.
In his state, he initially did not remember me which was difficult, but as we talked about familiar things, it was evident by the way he said my name that our common past was returning. Among those things which he had shared with me before was the guilt he had for having to place his wife in a nursing home while still in Long Island, NY. This guilt reared its ugly head that day as he wept uncontrollably over what was probably the best thing to do for his wife. I did my best.
Charles died April 1st, 2012. He had no children and as an only child not much family. I wanted to reach out to the Social Worker at his community to inquire about his journal and original photos but felt it really wasn't my place to do so. It haunts me to this day. I can only hope that someone has them and values them as much as I would have.
So, for a few years now I've wanted to post these photos and ask the CABE community; 'what bike is Charlie's bike?' It wasn't until my last visit that it occurred to me to ask him. He couldn't tell me. But I knew I couldn't just throw these photos up without the back story and an introduction of one of my heroes, Charlie Schemmel to CABE community.
The photos do not provide the best detail but from what I can tell, and this is not my era of expertise, this is a prewar, lightweight roadster, a fairly distinct but seen before chain wheel with the four rings not connected to each other. Not much to go on, I know but no better group to ask.
Thanks, Mark
Last edited: