I have already posted pictures of this new acquisition elsewhere on the Cabe but I thought it deserves a little thread of its own.
I purchased it online from a little secondhand bike shop/café on the backstreets of Bologna, Italy.....
It's badged as a "Cicli Vecchi" from Roma, but I don't think that they built the frame. I have strong suspicions that it may have been built by Antonio Alpi; it bears strong similarities to his work and he was known to build for many retailers of quality machines. I'm guessing overall at a date of very late 1930's to immediately post WW2.
If anyone has any other suggestions I would love to hear them. Here are some images of the lugwork for your perusal and insightful opinion
@juvela
.....
...anyone recognise the seat tube clamp manufacturer?
Chainset is by 'Magistroni'.....
...it is fluted front and rear on the crank arms.
It came minus pedals, but luckily I had a nice pair of 'Sheffield' sprint pedals in the pile which look great.
It features the legendary/crazy "Campagnolo" 'Cambio Corsa' gear mechanism which is going to take time to master in use!
...it also features a matching front "Campagnolo" Q/R front hub......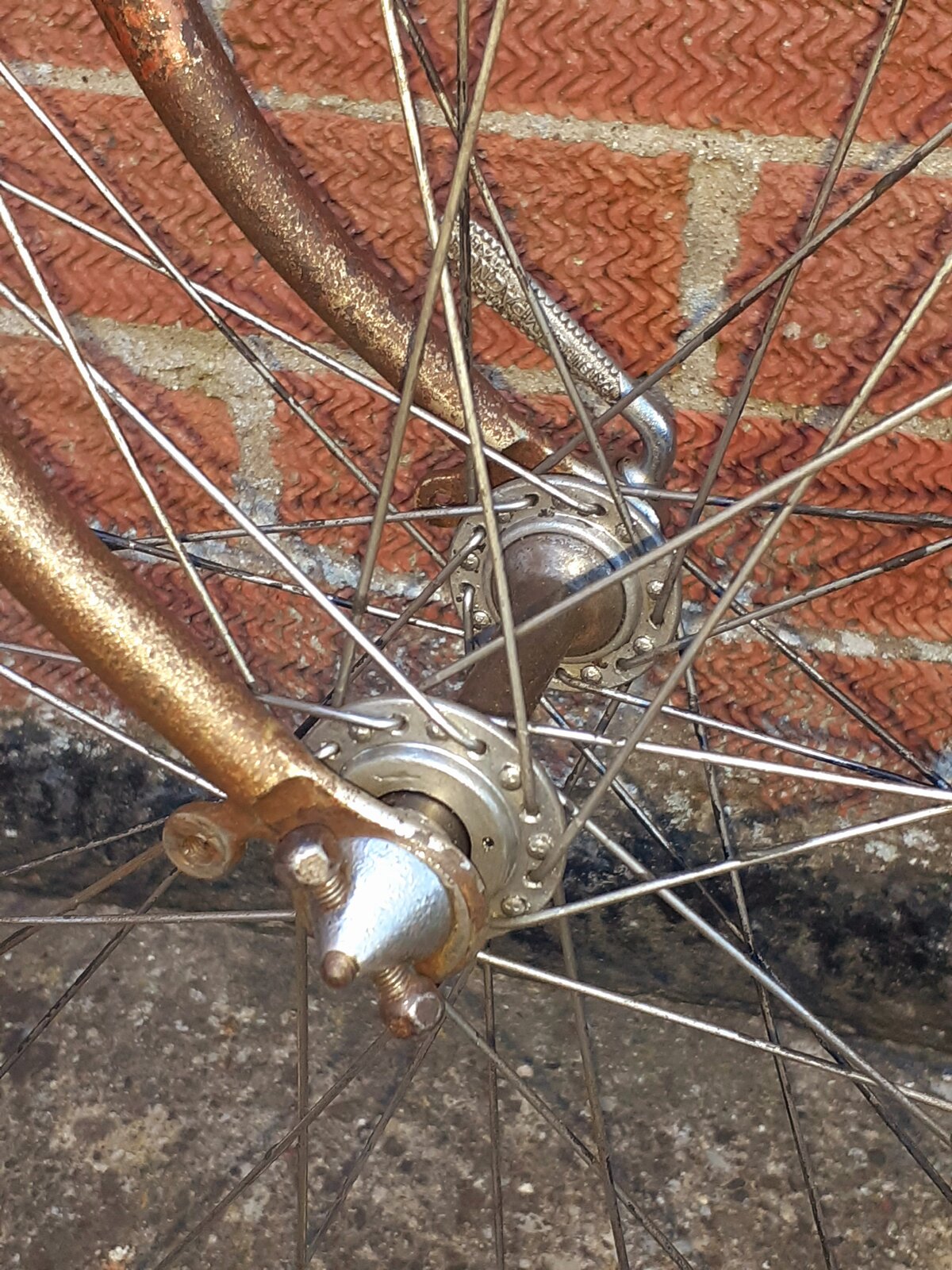 Both rims are very early "NISI" aluminium sprint rims.
Handlebars are unbranded aluminium.
Stem is a later period "3ttt" aluminium stem marked 'Made Italy' (not 'Made In Italy') which I think makes it one of their early stems, from circa 1961.
Brakes are also later I think being "Universal" 'Mignon' aluminium calipers front and rear; again any insight will be much appreciated.
The original saddle is by F.N.I. and requires repair but is definitely salvageable; I have temporarily fitted a Brooks B5N model.
Other than a lot of careful cleaning it has required very little work to get back on the road.
Just new tubs and handlebar tape really.
It has wonderful patina and the remains of some old transfers/decals.....
...including a little of a very early "Campagnolo" transfer....
It also retains its wonderful headbadge.....
...and very interestingly, "Via Ravenna 38, Roma" is still there in the same form, as a small shop; but today it, and the adjacent unit, is an opticians.
This opticians is owned and run by a Signor Fulvio Vecchi, and their website says that the family have been in operation from this building since 1938!
I am guessing that he may be the son, grandson or great grandson of this bikes originator. I have reached out to the shop via email and patiently await a reply, and hopefully, further information.
Please feel free to comment as I said above, everyday is a school day!
Last edited: