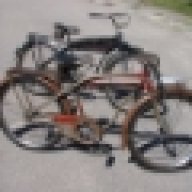 Wore out three sets of tires already!
Nov 22, 2011
921
Hingham, United States
The price is $105 Plus shipping in The USA & PR . Location Hingham Mass. This is a Colson Flyer bicycle fork & Truss Rods . This was on a Mens 26" wheel Camel back & or Moto Bike? This is from a early 1930s to mid 1930s Colson Flyer I believe ??? I cant say for certain because these where on a restored bicycle. This appears to be a nice straight fork. Please see the measurements provided to see if this will work on your application before bidding. The forks have been repainted the red pin striping is pin striping tape The truss rods are painted silver. The fork has a couple of partially worn threads at the very top of the threads This fork holds the hardware fine.
​