Wore out three sets of tires already!
Now that the novelty of my '37 Hawthorne has worn off, my restless heart is already looking for a new balloon tire bike to obsess over. Of course there's very little available here locally, and even less in my meagre price range, but I think I've managed to narrow it down to a pair of pre-war Columbias; the first bike is listed as a '41 Superb (pretty sure it's not a '41), with a cheese grater chain guard and rain gutter fenders, though the frame has inexplicably been painted black:
It's also missing many parts, as you can see. But I love those fenders and that chain guard, hmmmmm.
The second bike is being sold as a '41 Westfield (yeah, these pictures suck, I know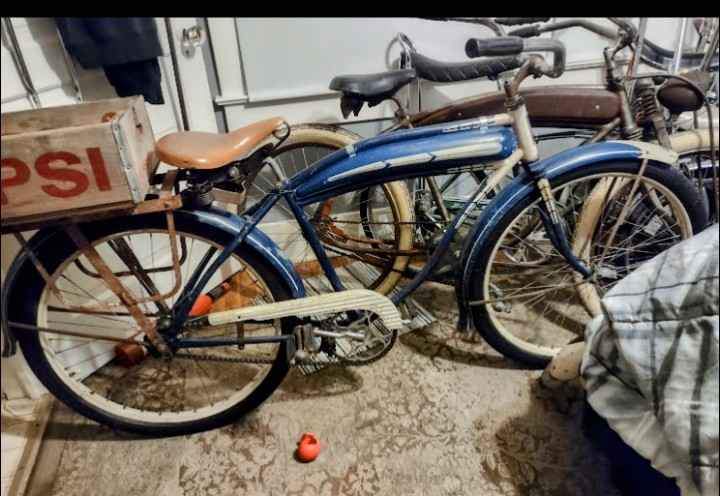 Sadly the tank doesn't come with the bike (and luckily that awful rack and box don't either) but it's otherwise complete. And I know that
@tanksalot
has a tank AND rack for sale that would match this bike perfectly, though their collective costs are almost equal to the price of the whole bike...
So I'm torn as to which direction to take; I don't know much about the Columbia brand, though I believe the black bike, if it is in fact a Superb, would be a higher-end bike than the blue Westfield. One would require parts just to make ridable, while the other is ready to go right out of the box. I love original paint bikes, but those fenders and that chain guard... which would you all choose?