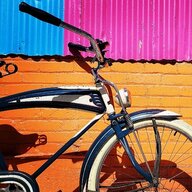 Wore out three sets of tires already!
Jan 6, 2017
527
3,827
26
Pittsburgh
Stumbled into this girl and was debating about making an offer. Just wanted to see if you guys knew a more accurate value than what I have found online elsewhere. I saw one listed for $950, but I wasn't sure of the validity.
Have not seen her in person yet.
Original seat, horn tank still operating. New tires.
Thoughts? Even a ballpark is helpful.