Wore out three sets of tires already!
Sep 30, 2017
702
58
New London, CT, United States
It does not take too much to get me all "up and 'cited" when I see a poorly lit and out of focus picture of a bike that I am after. It becomes a race against the clock, my common sense and some imagined collector with deep pockets and a fast truck. I don't always ask the right questions before I hit the road and drive at the sellers address.
The pic below is MUCH better than the one on Craigs List that launched me north. The price was 1/6 of what I have been seeing these things going for in recent months. That's OK with me, I thought, I deserve to win every once in a while!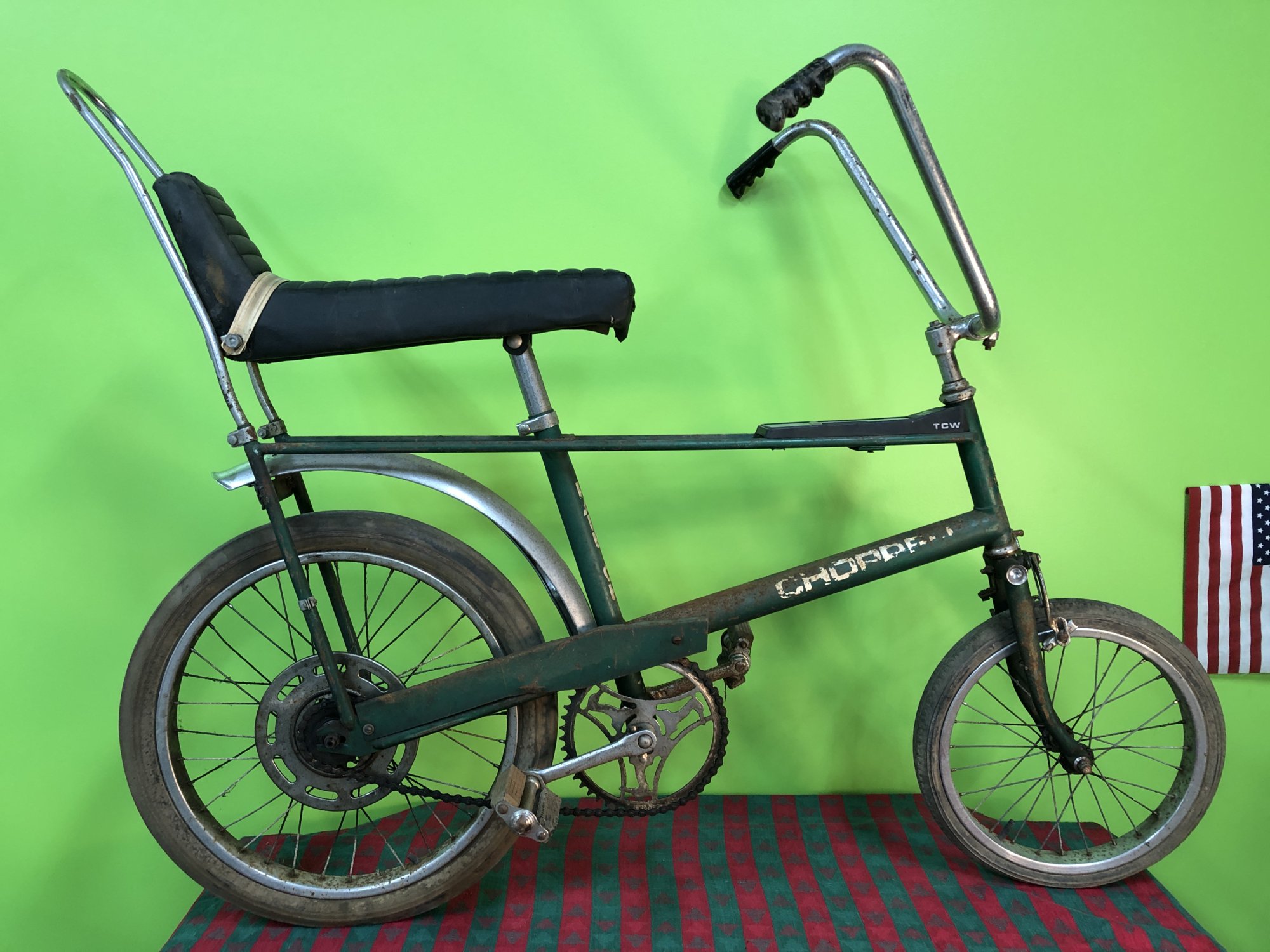 So... Could that be a red line slik under the dirt? Ooooo, the console says it is a TCW! That means it is a 3 sp coaster brake, mein fav! That paint (I don't like repaints) is just on the edge of being able to be saved!
Yeech. The bends in the sissy bar is evidence that someone had tried, unsuccessfully, to hammer the sissy bar out of the frame. (You can't be too careful! These frames break easily!)
No front fender! Darn, I am fresh out of them. No brake lever. No sweat, I gots a plenty of these early ones.
I can't believe that the chain guard is still in place... maybe with the proper fasteners...
So the bike is outside as I arrive. Facing the way it was photographed. I hand the gent my money because I said I would. As I turn the bike around I notice that there are 5 badly welded breaks in the frame. Of these 5 clotted and splattery welds, 3 have let go again. There are 2 other breaks that the apprentice welder did not notice and never fixed... if "fixed" is the right word for the molten atrocities that presented themselves for my inspection.
The wizened wizard of welding (Walter?... Willie?...Walph?) must have tested out the ground connection on the side stand mount, spewing cementious issue where the prop would need to move freely inside the factory race under the crank tube.
As I spent time in silence a staring at my new purchase in front of the seller. I was reeling from finding all that was wrong with the bike and tried to mentally recalculate the cost/ benefit/ satisfaction ratio as I realized I would not need to use my set of white CHOPPER decals that I had lovingly set aside for this project and that it was no longer a rescue mission, but had taken the dark turn to a recovery mission. As I dragged the corpse back to my van I realized that I should have asked one of two questions when I had the chap on the phone, before I committed myself...
The first question is one that I KNOW I need to ask: "Are you hiding multiple blemishes or perhaps a thing or two you are not proud of on that there OTHER side of the bike?"
The second question would be some thing like this: "Was the owner of this bike a big boned boy with a crew cut whose Daddy was an unemployed welder who's idea of foreplay is 'Hey Sis, are you awake?"
Jim
No, I am not bitter at all.
Last edited: