Finally riding a big boys bike
My worst "CL" experience. I waited almost 5 months for a couple saddles and a rear derailleur to be shipped within my State. After contacting the seller, agreeing on price and shipping costs, and paying; I could not get this guy to ship the items. He would contact me saying they would be sent in a couple days; 2 weeks later I'd get another message saying they were being shipped in a couple days; but still no luck. He always apologized for not sending as promised, and sent photo of an additional item he would add gratis for the trouble caused. 3 months later, and I gave up after sending one final plea for him to have some integrity and ship the items; but I figured it to be a lost cause. Last week (4 months 3 weeks) I get a message that items are being shipped (heard that before!) so I asked for a tracking # and got one. 3 days later the package arrived (but no additional item as promised). Woo, woo!
I had offered $90 total (he wanted $100 for 4 saddles, sans shipping; figured Brooks was worth the $90 alone
offered $50 for Brooks, $10 for old French saddle, and $10 for "parts" Campy RD; $20 for packing/shipping. I did not have detailed photos when I purchased; one photo for each saddle, and none for the RD (only discussed during initial phone conversation).
After researching the Brooks saddle it turns out be a rare limited edition "Swift" model specially embossed (design by famed illustrator Eleanor Grosch) and dyed (red) to commemorate the first hardcourt bike polo world champships finals in Philadelphia 2009; only 250 made (I have seen original boxes showing this data; my saddle is #74, date code 0G9 [July '09]; not sure what #0104 signifies). Brooks made other specially embossed and colored "Swift" saddles (again 250 made and separate artist for each design) for the North American polo championship in Seattle, European polo championship in London, and another listing all 3 locations on it. It's in great condition (used though not broken in) with like examples selling used @ $250, NOS for $300-$500 or so. I bought it due to it being a "Swift" model which is in between "B.17" and "Swallow" models, better support than "Swallow". I find more standard models (B.17 and Professional variants) are hard for me to break in since my weight requires much more riding time to achieve a comfortable ride; whereas a "Swift" model (and "Swallow") break in quickly for me, as well as being a bit lighter in weight and sleeker looking.
The French saddle looks to be circa 50s-60s; a Tron & Berthet "Norex 39" model in decent functional condition without sagging or spread at the skirts; surface finish crazing, but no deep cracks or tears; leather is pliable.
Not sure what the Campy RD is (mid 80s inline design), but only needs a "B" pivot bolt and one pulley cog; otherwise tight and I can polish it up (removing anodizing and Campy graphic). Aero style alloy pulley cage, "B" pivot adjust screw, pulley is Campy ball bearing type.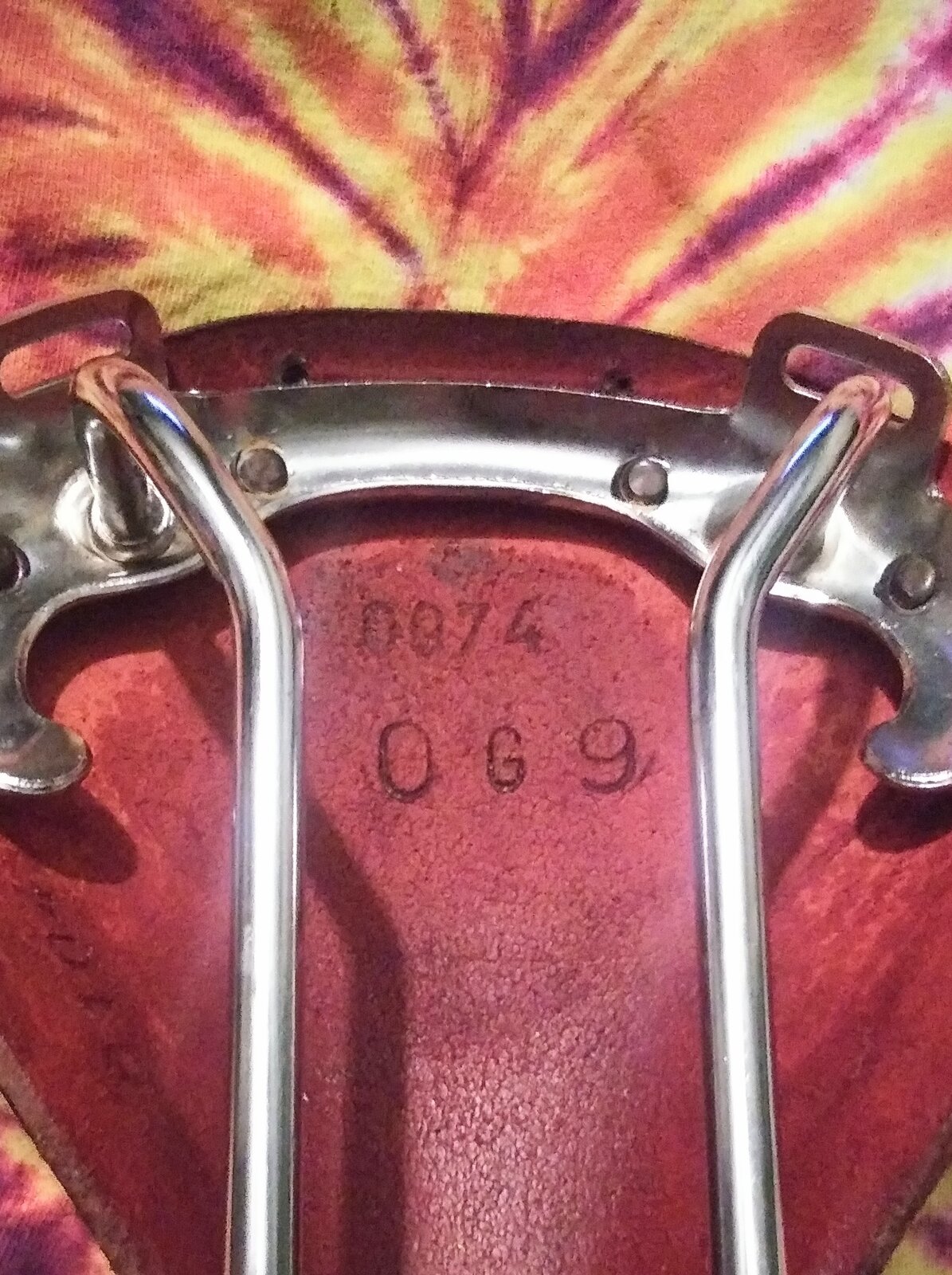 Last edited: