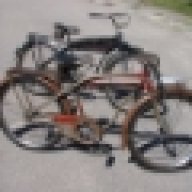 Wore out three sets of tires already!
Nov 22, 2011
923
Hingham, United States
Hello, can anyone give me a idea of the aprox value of this bike .. I've been told this could be a Reading , a Crown or a Emblem . The stem is broken fork tube and bars are fine. Broken stem piece has been removed . I'm honestly not sure what the bike is have a general idea thanks to other info out there . Really need help on value as I'm considering selling the bike only because I have to many to work on at the moment . Thank you for any help.
Last edited: