Very crusty but mostly complete project bike.
Serial appears to begin with a G, although it is hard to read. I THINK this is a 1950 model. If not, it's close.
The good, the bad, and the ugly:
I cannot say with 100% certainty whether this is a Phantom, B6, or a mix of the two. Painted parts are repainted. Tank is/was chrome. Rear fender has at least two coats of paint, can't tell if the bottom layer is original or not. Front fender is too rusted to tell if it was originally painted or chrome.
**Update - I am thinking it is/was a Red Phantom, due to traces of red paint on the headlight, tank, and frame.
As far as I can tell frame appears to be straight, with no repairs.
Seat and front rim are shot. Fenders need a little straightening, but not too bad. I did notice a small pinhole from rust on the front fender near the headlight. Otherwise, as rusty as it is, the fender seems solid. Horn is missing from the tank. I do not have the rack or chainguard.
Good frame, tank, springer, fore brake with lever, green jewel reflectors, headlight, etc. Rear wheel looks pretty straight as far as I could tell.
Key is there for the locking springer. I did not try to lock it, but the key does turn.
Obviously, the stem, and the steer tube for the springer, are both turned backwards. I will leave this to the buyer to correct.
I have attempted to describe this bike to the best of my ability. I may have overlooked something, so please go over the pictures carefully.
This bike is being sold as-is, where is, as shown, as found, and untested.

I will not part it out, so please do not ask.



I will not ship this bike. Pick up only.
$450 Now $350 Now $325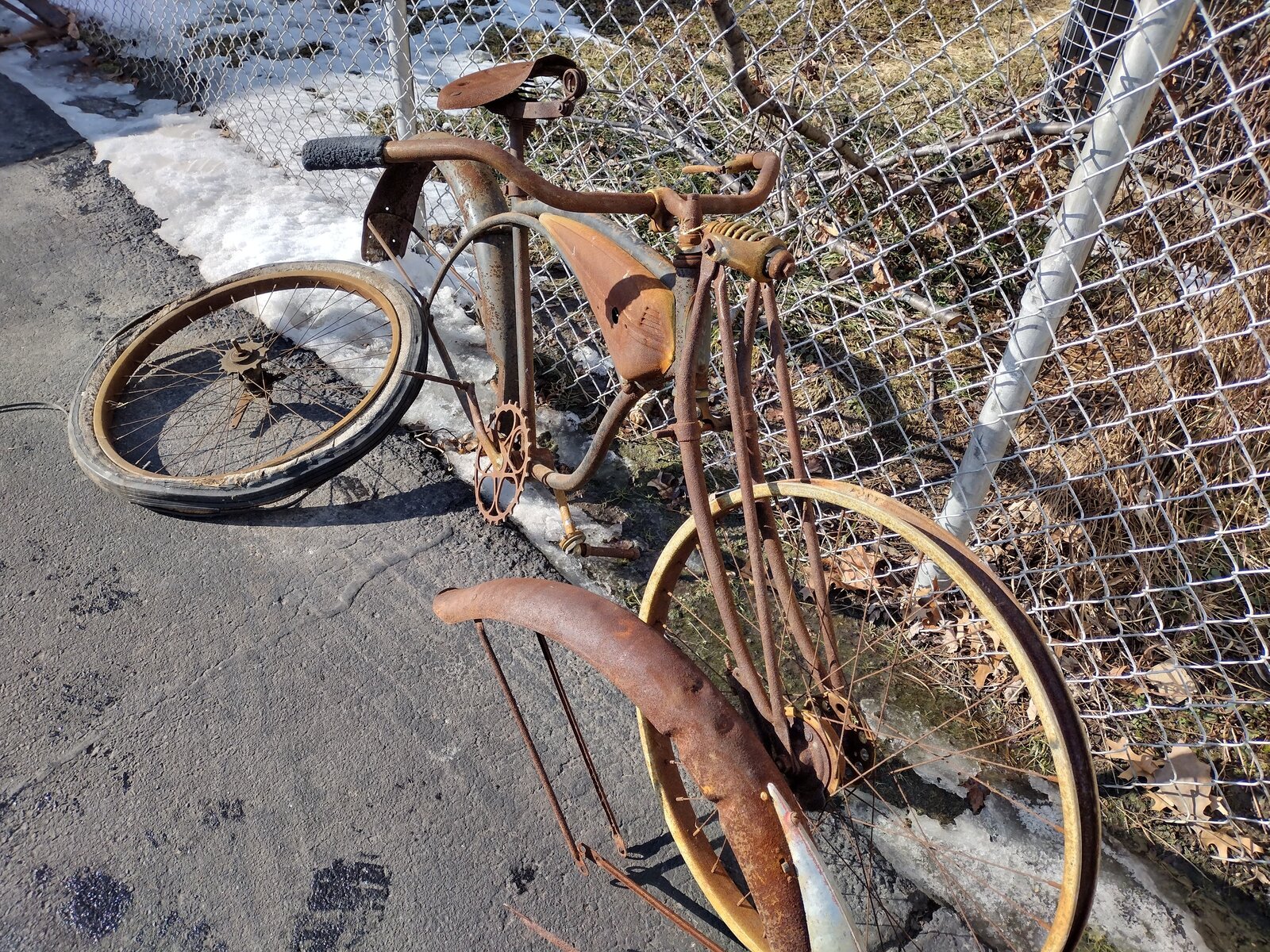 Last edited: