Finally riding a big boys bike
Jul 24, 2018
117
49
Buffalo, NY
I have been kind of digging space liners. Picked up a nice original a while back, and when I brought it home my wife actually acknowledged that she thought it was cool........first time she liked anything.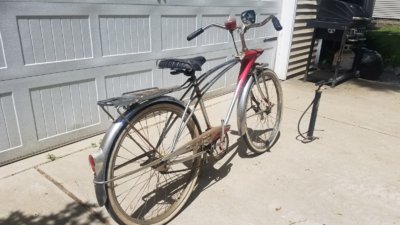 So I got another one and decided to fix it up a bit for her.
I forced a juvenile tank and some big cheap tires at it, maybe a roadmaster seat. I thought it would look super tacky, but I kinda like it.....rides like a complete hog, but so what.