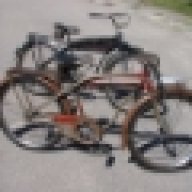 Wore out three sets of tires already!
Nov 22, 2011
923
Hingham, United States
The price is $74.99 shipped in The USA & PR This is a late Prewar CWC Roadmaster rack ? This is from a Mens 26 inch wheel bike. Please see the measurements provided) bicycle RACK. I believe this is a early 40s? rack. The rack has some surface rust/ patina & may need minimal straightning. With this being mentioned this is a good rack for its age.