Finally riding a big boys bike
Hello everyone! I was hoping yall might could help me find one of these. This is a 1920s- early 30s toolbox tank I am looking for. It is a fairly generic type used on a number of models and brands at that period of time. There are some on ebay currently I am very much considering, but they are not exactly what I need, and would require slight modification on my part, so I am interested in seeing if any of yall might have something more exact, that you would be willing to part with. I'm only interested in seeing what yall have to offer, nothing on ebay for example (unless you are the one who posted it on ebay). I am also
not
interested in one of those McCauley battery tanks, those large ones from the late 30s that are abundant on ebay currently. Just the type as seen in the below picture, ideally with the 2 tabs on either side of the door. Any condition or brand at all, old or reproduction, I am considering, but I will likely be repainting this tank to match my bike, so I prefer a piece that is already a repaint or has very poor existing paint. There were some of these tool box tanks that came up for sale in the last year, that were exactly what I wanted and for a good price, but I passed on them and did not bid because the original paint was still decent. I appreciate your help, and thank you in advance!
Send me a Personal Message with your asking price and preferred method of payment. Also please note or photograph measurement of length, width, and height. Thank You!
The bicycle I am working on is a
Red
1925 Elgin Moto-bike, the deluxe model with the optional toolbox tank with battery cradle (battery cradle is not a requirement for my purposes). If your toolbox tank has decent red paint of some description on it already, I will not be repainting it. This will likely be a patina & faux patina restoration.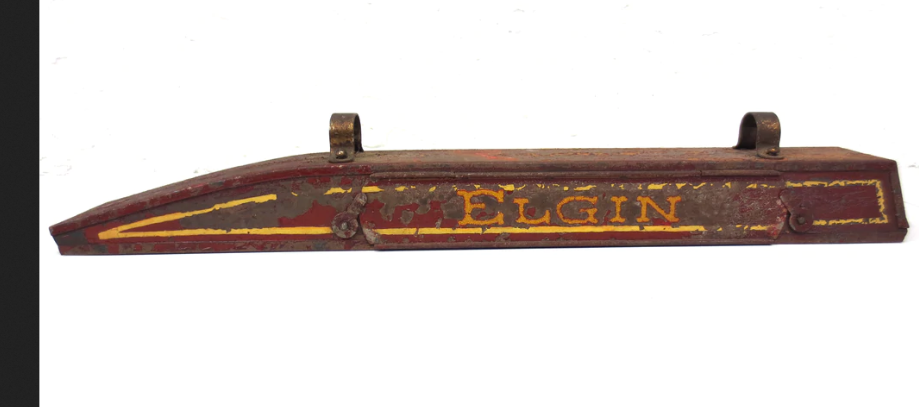 This is my bicycle. It is a very old red repaint, with some traces of original red paint, which I will use as a base color, and add in faux-patina dart stencils and pintripes to. Lightly polish the nickel, green and white tubular tires, install a luggage rack, and reupholster seat.
Last edited: