Finally riding a big boys bike
Here is the bike I built for my first ever Rat Rod Bikes.com Build Off. It's a 1950 Snyder-built Montgomery Ward/Hawthorne frame with Western Flyer pedals I bought at the 2019 Springfield, MO swap meet for $20. The fork seen in the pictures wasn't included with it, I just had it and thought it'd look good with the original paint.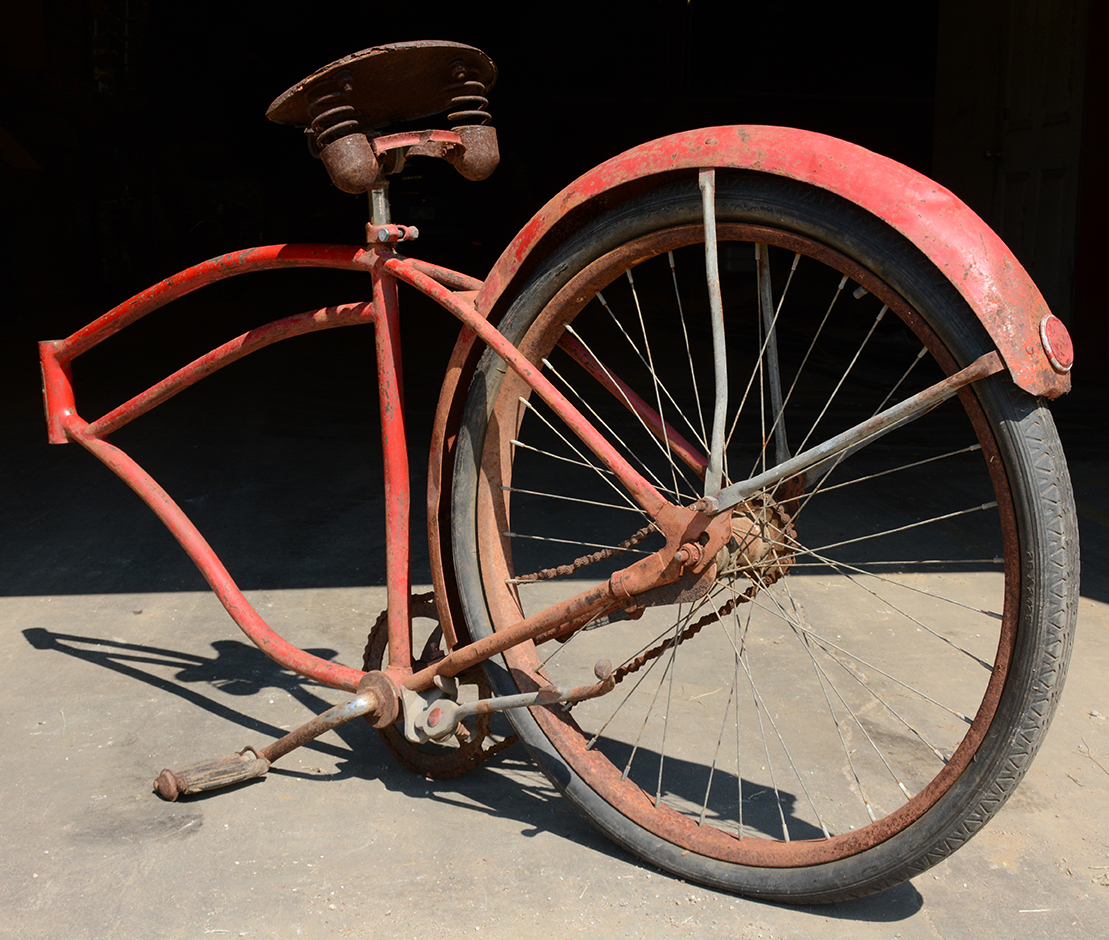 As it turned out, this frame was
BENT.
The seat pole in particular was really bent.
I took this frame to a couple bike shops around town to see if anyone could straighten it out for me. One recommended this guy at a radiator repair shop, so I took it there. In hindsight, I should never have done business with that guy, because all he did was bend it in a different direction, and he messed up nearly every other part I brought to him. I was not happy.
Since the original paint and patina was ruined when this guy burnt off a fair portion of the paint, I decided to try and wire-brush everything down to bare metal to see how it looked. In the process, I found this cool diamond design hiding underneath some of the surface. While it didn't return after the initial build, I plan to bring this design element back when I rebuild this bike again later.
I mocked up some parts and made some rough plywood tank inserts to try and get a feel for the direction of this bike. It was about this point that I decided to go for a sort of board track racer vibe.
My dad had a bunch of these halo lights from a Sonic drive thru he wasn't using, which I felt would make perfect number plates for my bike.
I took everything to my dad's welder buds, who did a much better job of fixing this bike than the first guy. They cut out the mangled seat pole and welded in a replacement from a junk frame I had, bobbed the rear fender, made one good set of forks from two bad forks, cut the number plates, and tweaked the chain guard to fit better.
I then had all the parts sandblasted down to bare metal, then I wire-brushed everything to shine it up. I then hit everything with a few layers of some satin clear coat spray paint, and began putting the bike back together.
On literally the last two days of the build off, I put together this custom wood tank out of some scrap pine boards I got for free off Craigslist. I don't have a bandsaw, so I just used a jigsaw and my dad's belt sander to shape it. I had never done this before, so this first tank... could look better, but it came out okay for my first try.
I was one of the last, if not
the last,
guy to finish my bike before the deadline, but I got it done. It's not perfect, it's not done like I had originally planned, but it's done.
One of the other details that I added to the bike before I finished it were these custom decals for the chain guard and number plates I designed in Adobe Illustrator. I got the name "Dumpster Diamond" from a combination of the diamond I found hiding under some of the paint, and the fact that multiple people who saw this bike before I started on it asked if I had found it in a dumpster, or have said it belonged in a dumpster. Those people made me determined to take this "dumpster bike" and turn it into something beautiful, and I like to think I've succeeded.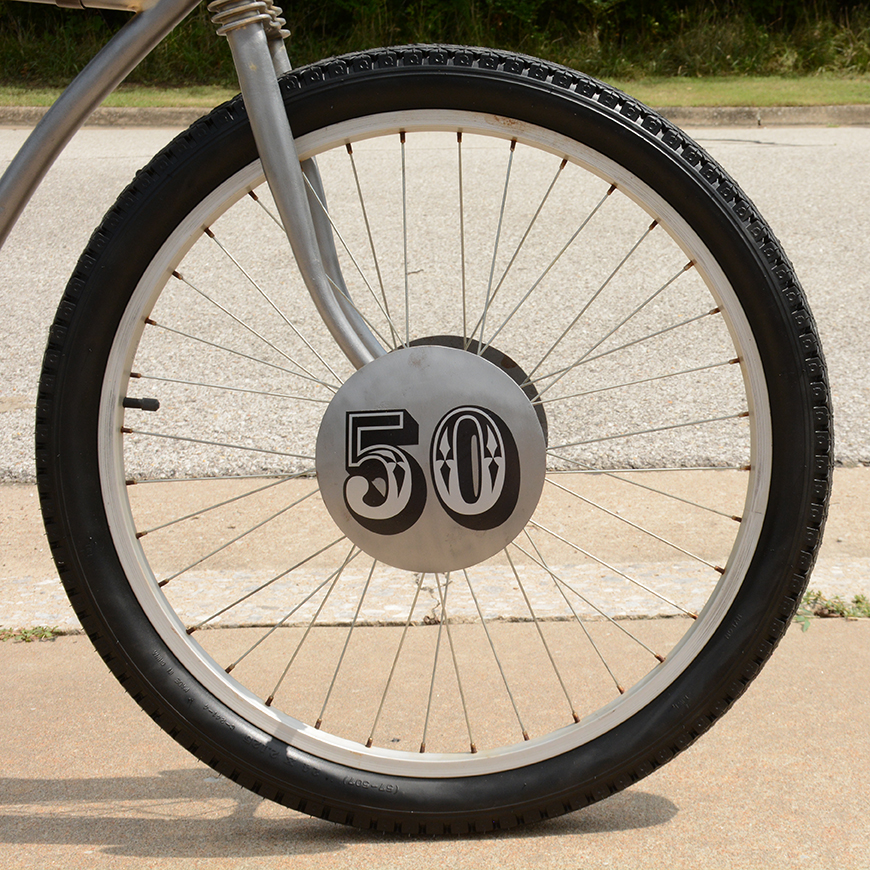 The picture that helped me finish in 17th place out of 68 finished entries in my class. I wanted to do something a little funny and poke my head out of a dumpster like I was Oscar the Grouch, with my bike sitting in front of the dumpster like I found it in there.
I've still got plans for this bike and how to make it even better, but for now, I just want to fix a couple things to make it ride a little better.
For the full build, here's my build thread:
https://ratrodbikes.com/forum/index...er-build-off-with-a-postwar-hawthorne.111100/
For the finished build thread, look here:
https://ratrodbikes.com/forum/index.php?threads/dumpster-diamond-is-done.112194/
Last edited: