From my earliest humble roots in front of the ancient television on my tricycle (cica 1955)
I guess I was somehow destined to pedal
By no means my early childhood bikes- a 20" JC Higgins converted in 1965 to a "sting ray" with a white banana seat, high bars and knobby rear tire, or the 26" Old Green Clunker (a Western Flyer balloon bike I think) that Dad had painted and reconditioned for me a couple of years before I could actually fit it. No particular photos of these have survived these many years.
This 1968 Schwinn Varsity then shaped my younger days. I was in Eighth Grade and it was shortly after my first windfall of Christmas tip money delivering the Indianapolis Star in the early mornings that I was able to buy myself this new ten speed getting so popular among my young friends. It was $70 and the 40 or 50 in Christmas tips put me in range. I think this picture was in February- I recall the time but not the date- my sister took the picture with a old Kodak 126 cartridge film camera- and snow still appears in the shadows. I was by then 14 and small for my age for another couple of years. My group of friends had been known to ride out to the reservoir- some 11 miles round trip- on our old middleweights, or to Matthews bikes on 38th Street, or distant Glendale shopping center- lesser rides of single digits-but with this bike I started soloing on my own longer forays.
That first summer of '68 I rode on many carefree days up the cemented main lanes- yet not completed leg- of I 465 from 56th Street up to Castleton to swim at Northeastway park. I rode my first Century ride on it, a CIBA club affair the Fall of 1970 and , eventually captured second place in the Indiana state road race Junior division of 35 miles on the Varsity in 1971- while my cross country partner and I went undefeated in our high school race, where I was founder and President of the Bicycle Club.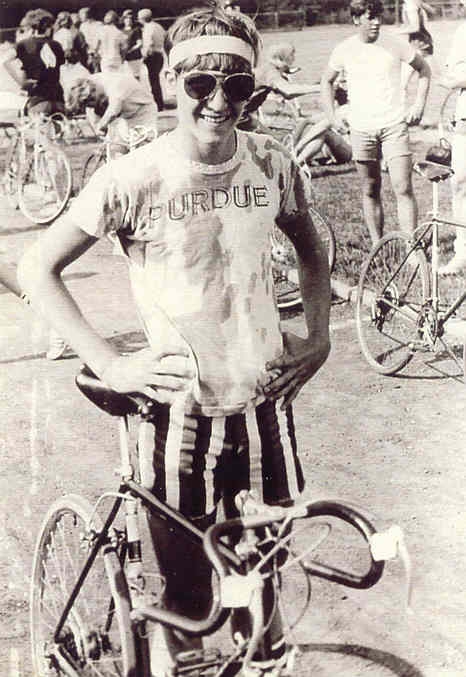 The Campus Green bike was eventually stolen in 1971 and yet still has a place in my fond memories.
But beware! Varsity riders often graduated to stronger stuff!
'74 Paramount, circa 1980
Last edited: