(loading additional detail pics shortly , some will be as reply to make the post more manageable / readable)
Clearing the Decks of Three Speed stuff PART 1:
Chain guards
1 bronze green Raleigh chainguard $15
2 Black Raleigh guard $15
3 SOLD Black Raleigh Guard ( early Block font) SOLD
4 AMF Hercules Black guard $15
Kick Stands :
Refer to letter in photo
A. add on $5
B. $15
C. $15
D. $15
E. Less common / c.1965 came from a Fuji made # speed Londoner $15
F. Wald Cross shape (Rear Mount ) ? dont know the proper name for this one Road KickStand $15
Miscellaneous Grips and Smalls
:
refer to letter in pictures
G. addon $5
H. add on $5
I. SOLD RIGHT HAND brake lever with out proper clamp fixing screws Add on $5 SOLD
J. Single faded white Grip add on $5
K. K is SOLD ((used faded) Sturmey Archer Twist Grips $10 ) SOLD
L. SOLD Pair of Raleigh Grips $10 ( plus a third orphan grip with butt end beginning to separate at seam if you want it. ) SOLD
Saddles:
P. Mattress / Rivet 4 Rail: no tag remains. ( seems to me the rail spacing might need a look? maybe this is fine/the way it is supposed to be , pointed out for you to see) $20
Q. withdrawn : Rough Rustic Crusted and incomplete Brook Vinyl cover Mattress Saddle. note the springs are not present
(see below for 53 Hercules Horsehair Saddle )
Pedals:
M. SOLD Raleigh 1950's Pedals w/ Sir Walter Raleigh Blocks Chevron Pattern $25 have not been cleaned or degreased. wear on the blocks : so emblem relief is faint not crisp on some faces SOLD
N. Raleigh Block Pedals Union with SWR logo TPP 112 Relector c1970 $20
Fenders:
Bronze Green Superbe Set $30 refer to Separate Post : has detailed Pics
Triumph / Raleigh made Black Fender Set $30 ( refer to separate post pics available )
Raleigh Self Adjusting Racheting Brake Parts
Pile of self adjusting Racheting Brake lever Parts : As IS / subparts or Repair only
Note that only one wire bail is present if the first set of pics.
UPDATE ,
since I the initial post I have Located addition levers with Bails, I will update the pics and the lot now includeds 3 levers with bails present. that said its still a riddle to reassemble/ selling on a "Parts or Repair basis ."
$15
Norman England Western Flyer c late 1950's Parts
:
Deluxe Sport
4 Rail spring saddle Taiwan w/ clamp $25
GRIPS ARE SOLD : Gold tone Sparkle Grips $15 SOLD
Hercules 1953 Rough Condition Parts
:
Hercules HorseHair Horse Hair Mattress Saddle with - Clamp, -Rust, and - white Paint stain on Loosely held together tattered seat cover $20
Kick Stand ( unkown to me brand / maker ) not cleaned. not degreased. with Rust. $10
Housekeeping / Terms of Sale : Please Read
To keep the Post readable manageable additional detail pics will be added as reply. (Always happy to PM more pics if you need closer look.)
All Prices are PLUS shipping
. From East Coast
( I pack and select shipping boxes with care to be efficient on cost.)
All items are offered for
Cash, Check , or Money Order
Buyers.
( will consider exceptions among established Caber friends who have confidence that I pack, deal, and ship promptly reliably.)
( I am sorry to have to say this to my friends, but : any attempt to make payment as G/S will result in Immediate Refund/Sale cancelled/ not friends.)
If an item shown doesn't have a price its available, just PM me.
Make an offer for the Lot , or create your own Bundle and I can improve price on multiple items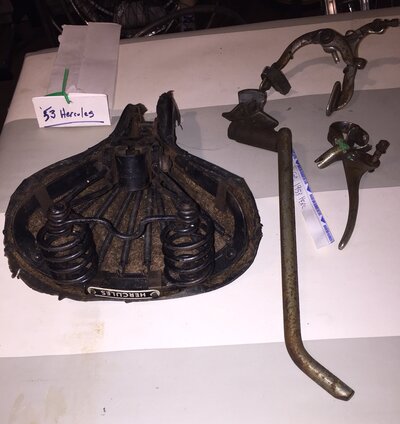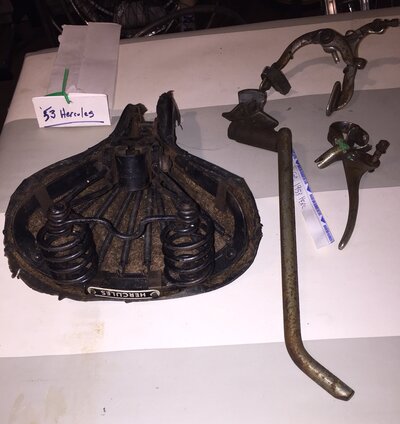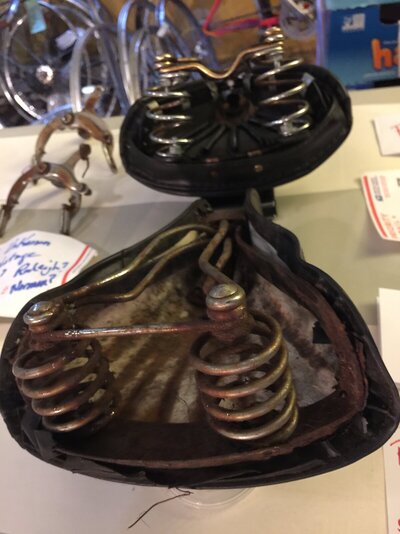 O. are SOLD / GONE will have more caliper brakes in Part 2
More pics will be provided below as reply or on request
Last edited: