Wore out three sets of tires already!
This is all packed away. If. you want something, contact me in late March when
I pull this out for my yearly sale.
SCHWINN:
1970 lightweight manual $2
1980 Exerciser Speedo complete SOLD
Quick release stem bolt $1
Stinger tool bag SOLD
'50s headset $10
'60s lightweight reflector round SOLD
'67 blue Slimlines $15
'70s lightweight reflector rectangle $5
'70 Weinmann Sing-Ray length cable SOLD
1972 5 speed derailleur (clean) SOLD
1973 5 speed derailleur (has scratch) $10
VINTAGE MISC:
Spokester plastic "playing card" SOLD
Bennoto single rolls $1 each
Hurst speedo $10
Vista grips $5
Euro wheel lock w/key SOLD
Touring fender clamp SOLD
Shimano 7 speed downtime shifters $10
downtube casings $2
Misc reflectors $5 each (jewel style one SOLD)
Pre war post 5/8? $5
NOS lever covers (I can also get in red, white, yellow) $3 each
BMX/VINTAGE MTN:
'82 NOS Troxel saddle $10
'80s NOS Italian saddle (Elina style) $40
'90s Haro saddle $15
'80s ODI Mushroom grips $40
'90s GT pegs 24p thread $5
'90s GT grip plugs $5
'70s single bolt pad (1 broken snap) $5
'80s NOS 4 bolt 22.2 stem $10
'80s SR MTS 100 22.2 Sling Shot stem SOLD
13mm axle $4
4 bolt clamps SOLD
Suntour Mountain Tech rear derailleur $10 each
Suntour Alpine front derailleur $5
SADDLES/BAG:
'61Red "S" seat (missing underside nut and has tears in front) NLA
'67 Blue "S" seat $15
Raleigh style touring bag SOLD
PEDALS:
9/16" Clipless $2 each set (all SOLD except ones on bottom of pic)
1/2" Exerciser SOLD
MISC 2:
'50s green caliper fork Schwinn middleweight $10
Cane Creek 31.6 Thudbuster post SOLD
Simplex derailleur $8
Fixed cog w/lock rings $4 each
Tiagra 3x9 drifters (for parts-not working) $5
SCHWINN SPOCKETS:
Large 5 or single speed and small various Pat. Or Sprint $3 each or offer on all (some have sold)
3 SPEED:
Bendix 2 speed or Sturmey Archer 3 speed shifters or covers $10 each (2nd row middle one SOLD)
Schwinn 3 speed shifter $20
NOS Shimano or SA (shown w/o, but comes with nut/bolt clamp) $5 each
NOS indictor spindles $5 each
Various other parts NLA
SCHWINN CABLE:
NOS Weimann grey glitter cable set for touring bikes $20
Housing length front (7 3/4) rear (20 1/2" and 8 1/2")
Fronts only $4 each
'60 S7 wheel set (small ding in front) $40
'61 Corvette stainless steel fender set $30
Pre-war truss rods $35
Added: NOS NAI (made in England) 3 speed dedicated cable $4 each
and c/u of indictor spindles (one w/overload spring for stickshifts is $8)
1969 PARTS
Bow pedals SOLD
5 sp derailleur $15
Brown slimlines SOLD
Headbadge $8
Gold dot levers $8
1964 VARSITY PARTS
Sprint crank w/rings $10
Downtube shifters SOLD
Rear reflector $10
Sprint front derailleur SOLD
1962 CORVETTE PARTS
Black chubbies NLA
Fork NLA
stem NLA
Bars $5
3 speed assembly $15
Red dot levers NLA
Seat post clamp NLA
SCHWINN rack clamp $2
Seat post NLA
S7 3 speed set (nice) $30
Stainless fenders SOLD
Early '70s Raleigh/Huret group $10
Misc Raleigh 3 speed parts $10 for all
orphan grip, binder bolt, c/g bolts, fender screws, rear reflector
wedge bolt and 9/16" pedals
Huffy Aerowind parts SOLD
'73 Schwinn block pedals SOLD
1968 Raleigh/Robinhood parts:
Touring bag $10
Saddle/cover $10
Brakes $5
Misc. hardware/pedals $5
*Let me know if you need more pics.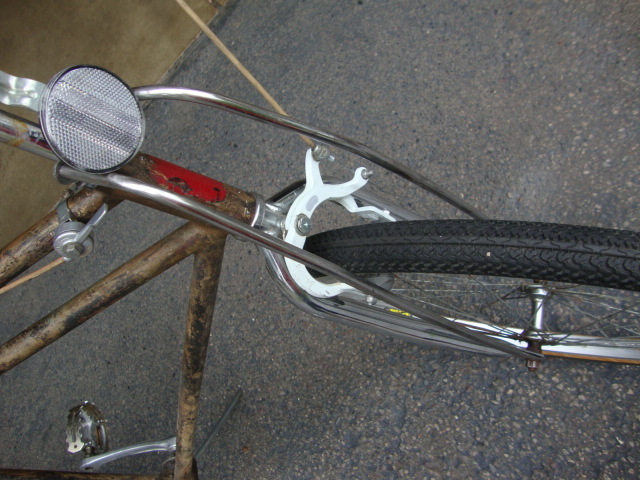 Last edited: