Riding a '38 Autocycle Deluxe
Here is a big load of various 26" balloon era bicycle fenders for different manufacturers ....1930s-50s etc
sold individually or pkg deal in some cases....

Lot 1

Chrome lot of 4 fenders as follows

#1 Top Fender appears to be postwar COLSON Olympic model, very deep NOS with some shelf wear
and dulling to chrome but nice overall----------
20.00 plus postage OBO

Fender # 2 & 3 same profile, appears to be McCauley Deep Shelby profile like the 36 models but
not positive, both are fronts and NOS, chrome is better than the top fender. NICE vintage balloon
fenders wish I had the rears to match 30.00 each plus postage

#4 Unsure of make or Mfg of this one....has the wide /long indent for spring fork struts or truss rods..
Chrome is nice and fender looks NOS....very similar to Schwinn prewar fenders only no flair.
Excellent condition with minor shelf wear. Very deep and wide profile, not like the narrow anemic
Wald aftermarket fenders. 25.00 plus postage

or Take the lot for 90.00 plus add the postage...

bobcycles@aol.com



Close up of fender # 4
Close up of Deep McCauley Shelby looking front fender (2 of these available)
Close up of Top fender....I believe Colson Olympic Postwar balloon-----tighter fender rivet spacing.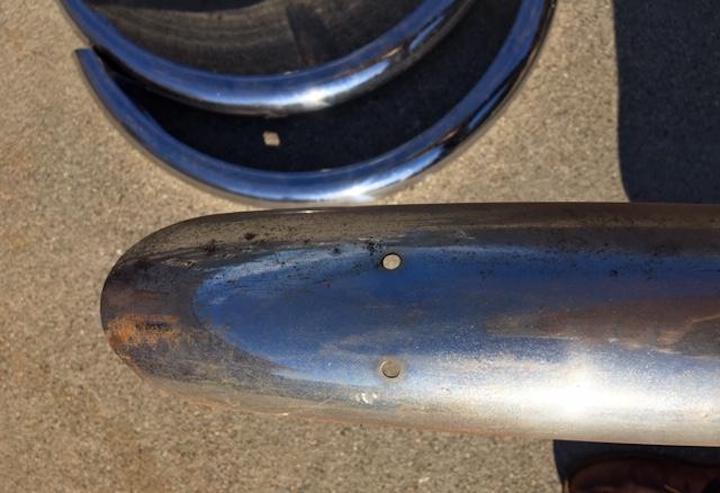 Schwinn lot sold as a bulk lot. Mixed lot of NOS and used fenders as follows----
Top NOS Middleweight Tiger/American/ Hornet/ Panther/Spitfire possibly
#2 1940s-50s used 24" Balloon front fender with flair ( I can also roll this before shipping, few minor dents)
#3 Possibly NOS? rear middleweight rear fender Tiger etc
#4 Rear Red MW fender Hornet etc possibly NOS with shelf wear etc
#5 Stainless rear Corvette/ Jaguar? fender looks to be a 24" fender
All the above 50.00 plus shipping
Bobcycles@aol.com
or PM here
NICE Matched set or 1950s Middleweight POSSIBLY? Balloon red Hornet fenders....mid to late 50s
narrow profile with no flair and as found on the later 50s bikes. Appear to be NOS some shelf wear
35.00 for the pair plus add the postage.