Finally riding a big boys bike
Hello everybody, hope you're doing well ! Its been a while since I made a post, and I'm exited to show yall my latest project I finished. A while back I bought a wrought iron bicycle here on the CABE, built circa 1870. I have been aiming to get it totally complete and perfect working condition so I can ride it up to town a couple of miles away for the show at our Farmers Day in a few weeks. The part I most wanted to show yall is the seat I finished reupholstering, its the fourth seat I have ever restored. It is the original 150 year old seat, and when I got the bike it was just the bare pan. It was also missing some hardware underneath that holds the seat nose in place, so I have since fabricated a replacement. I'm just an armature at this kind of stuff, but its good and sturdy now. The seat took me at least 15 hours to complete, maybe more. It is all hand stitched, genuine dark red Goat-skin leather, with genuine old horsehair and cotton padding. Underneath one of the seat springs, is an embossed stamping that reads "Sanderson Brothers". This indicates that this bicycle was likely built by the "Sanderson Brothers Vulcan Works" of Sheffield, England, or was at the very least built using their steel, and then exported here to America for sale back in the day I reckon. That company also built various tools, anvils, and farm equipment at the time, and had some dealing here in the United States as well. They went out of business or were absorbed in the early 1900s. This bicycle was exhibited in a museum in Stone Mountain, Georgia from about 1963 to 2009. Finally, I also made a new set of solid oak Pedals, and oiled everything up real good, and now she's ready to go! I have ridden the bike about a half mile total so far, and it can be safely ridden at nearly 10 miles per hour. Thanks for reading, and have a happy Independence Day! I appreciate any comments you might have, and if you have any additional information you could share. Thanks!
Here's some pictures showing what I done: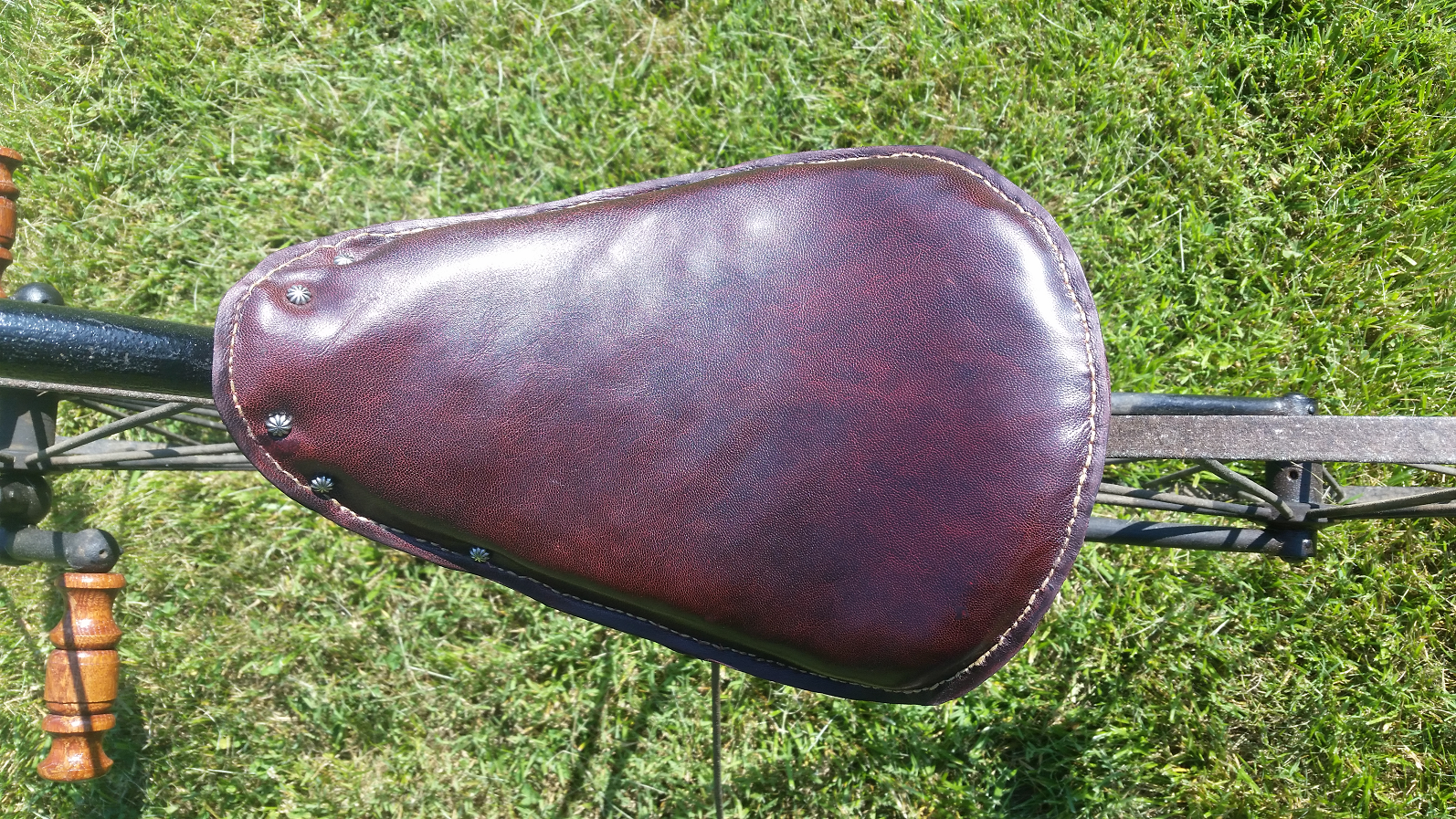 First I started with the bare pan and glued the base leather underneath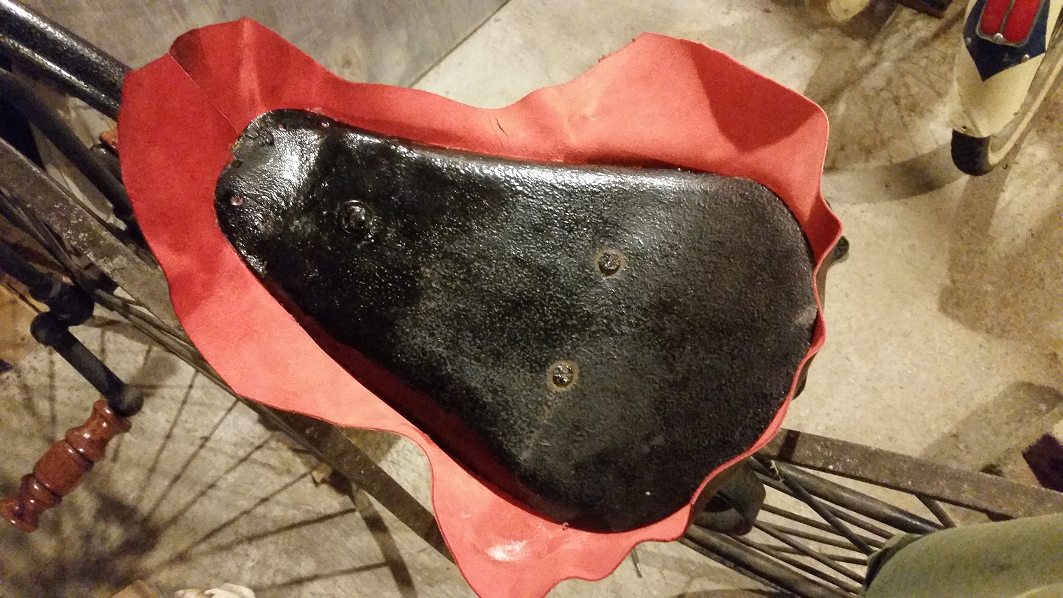 Next I made a Kushion out of Horsehair from an old automobile seat
Layed down some cotton batting and fabric over top of that to smooth it out
Stretched, Stitched, and Riveted the leather all together, and you've got yourself one comfortable seat! The rivets are punkin rivets, and were driven through the 6 original rivet holes in the pan.
Last edited: