Original 1894ish 28" X 1 5/8" Boothroyd Tires: You have to Google
Boothroyd Tillinghast The Story Of The Tire
and learn about these tires. These are the best set of Boothroyd tires I have ever seen. Yes there are some cracks and scales in the vulcanized exterior, but minor distributions and mostly soft rubber. Look at the pictures, I photographed everything. They were soft the day I took the bicycle out of the box. I was amazed, but it was hot that day. I was even more amazed when both of the tires came away from the rims with the original valve stems and caps in tact. I decided to try and put air in one. It held air. I got it to 11 pounds and stopped when I realized what was happening. I put them on a flat roof down here in Key West where it is hot already. After a full day of sun I went up and checked them again. No air left. I expected as much.
I left the tires on the roof and pumped it up again. 10 pounds, the tire was starting to move. At 11 pounds air was leaking from cracks encompassing the valve stem. At 13 pounds the shape of the tire was becoming more apparent, it was moving. On the cusp of 15 pounds a patch on the surface popped out like a champagne cork. I am still looking for it. By this stage it was a futile gesture in pumping because it was coming out as fast as it went in.
There was a ½" diameter hole in the tread area of the tire where the plug popped out of. I left them both on the roof overnight and thought it over. The next morning I started working them, kneading them like bread dough. I softened up most of the hard areas by working them several times a day and applying weight and the hot roof. After a week of this I achieved 90%+ success in getting the original vulcanized rubber soft enough to take a tubular/near tubular shape. Unfortunately this kneading left the tire incapable of holding any air again.
I decided to foam them, and it Worked. This is the only set of Boothroyd tires I have ever seen with 100% vulcanized rubber. NOT brittle and flaked off in geometric patterns like all the others I have seen. NO! This is soft enough to go back to tubular under the pressure of foam. This is 100% display worthy. Both tires have their problems. Both tires have hard spots from where they sat that was only 50% recoverable. One has more area that is less than tubular but still highly displayable. The rest is pristine perfect Original Tubular Display Tire condition, simply divine. As I said before, one has a ½" hole in the center of the tread surface. The other has a tack of some sort stuck in it. The tack was original to my purchase and I have left it as original. Both tires have areas of original wear that has the vulcanized surface worn off and the canvas weave showing through, true Historical Fabric if you will forgive the pun. Both tires have slight surface breaks in the vulcanization where the diagonally wrapped canvas is separating, more historical fabric. Both tires display the joints in the vulcanizing material. Both tires have red rubber
B or 17 or 91
molded into them. I am uncertain exactly what they are referencing.
The more I worked on these tires the more I became convinced they were the cause of this bicycle being put in the barn. The one large hole must have been a constant problem and with the wear on the delaminated areas adding in concern. The death knell may well have been the tack left in it. May perhaps a young lass having been fed up with these new fangled pneumatic problems just threw it in the barn and her father gave up on it? I am certain these were the only tires ever glued on the rims. These were definitely the last thing to fail on the bicycle before it was abandoned to 110+ years of a hay stack entombing in some barn. That young ladies bane is our gain. We all get to see what a set of these bad boys look like restored. Not to forget one of us gets to take this slice of history home and fondle them.
After foaming I cleaned them up with Pine-Sol and water. I let them dry in the sun again. Yesterday I applied Armor All many times throughout the day and let them sit in the sun soaking it in. At sunset while they were still hot I mounted them on the rims they came off of. Today I took these pictures. These tires are a sight to behold. No 1890s bicycle out there can truly be appreciated until it is dressed in these Gray Beauties.
These are the perfect display tires, PERFECT. You will NEVER see another set of 115+ year old 28" Boothroyd tires under pressure, all be it foam. These tires are what your 1890s PTS was engineered for. These tires are what your 1890s PTS bicycle dreams of at night while fondly recalling its youth. This is one of the last sets of tires in this condition. These are survivors. If they do not sell they are going home with me to be put on my wife's 1889 Type II EWART drive PTS. (Every time I read this last sentence I raise the reserve in hopes they do not sell)
After all this is said and done I want to admonish you to look at the pictures closely. Let the pictures be your description. The rest is just background noise. I have many many more pictures at a Photobucket link. You only have to ask to get the link from me.
I only have one finished presently. I should have the mate tomorrow some time. When I do I will post more pictures of it. When they are both finished I am listing them on eBay in auction format. I will post a link here.
Thank you for looking.
NOTE: Thank you CABE for a place to do this.
The pictures say it all...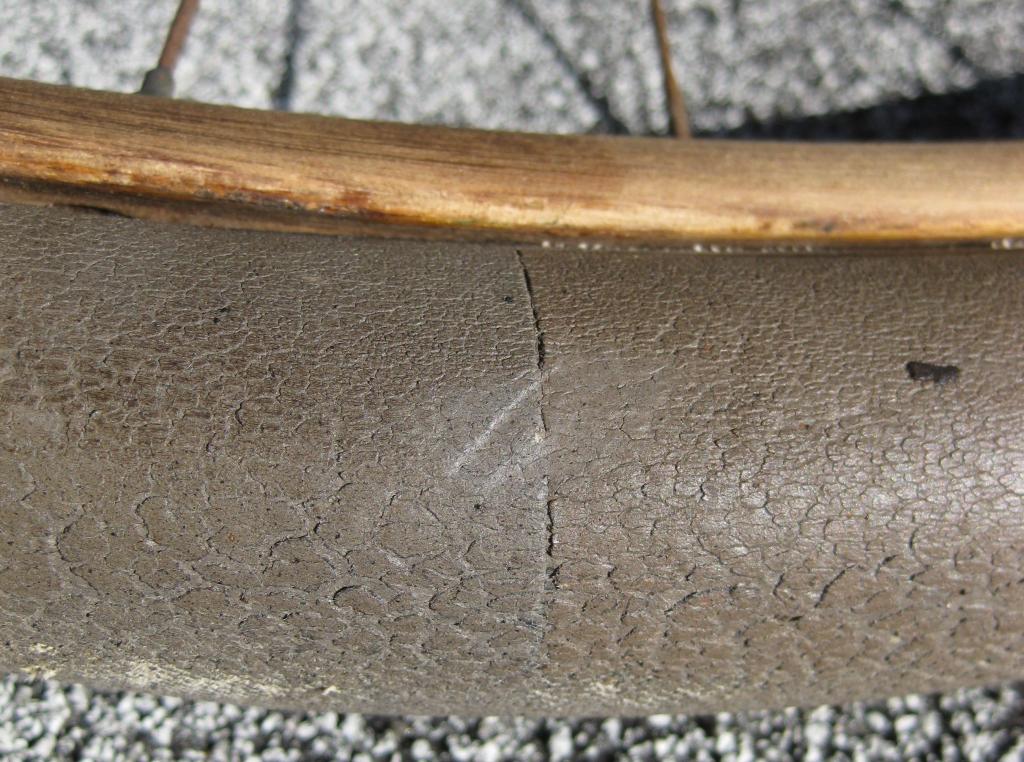 Last edited: