Riding a '38 Autocycle Deluxe
4 lots as priced shipped!
Lot 1
left to right....Nice vintage NOS 1930s/40s Bell...Works Great! nickel plating is worn from storage...still nice vintage
Made in USA noise maker for bicycle then 8 various shaped plastic reflectors including -top row 3rd ...hard to find smooth faceted
plastic reflector that was used on early Phantom saddles... stud is loose but fixable... Good studs on the rest
all you see in the pix for 40.00 shipped
bobcycles@aol.com
PM here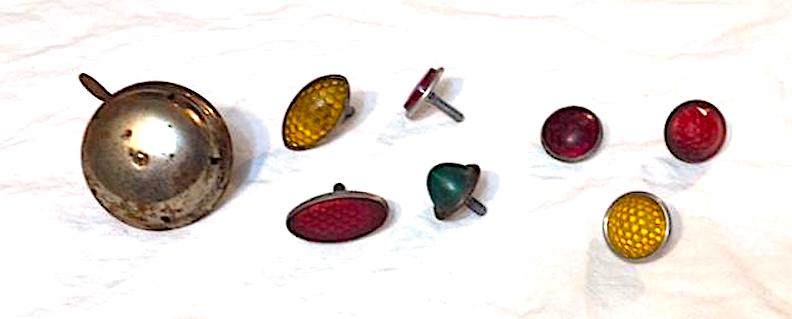 Lot 2
Vintage 1930s-40s Bicycle bell that IS New Old Stock with patina from poor storage..works Great! Never mounted
Plus variety of vintage reflectors including large clamp mounted Cat-Eye and other including Deco setting reflectors
all you see in pix for 45.00 shipped!
Lot 3
Nice lot of mixed reflectors...mostly Glass, including a NOS Patina 1930s-40s Bicycle bell that works
great! all of these are glass except for small red upper left next to the bell!.... Nice variety lot
45.00 Shipped on all
Lot 4
Nice assorted lot with an NOS Vintage 1930s-40s vintage made in USA Bicycle bell. Nice
lot of varietal shapes and sizes including a larger English Raleigh etc fender reflector,
bulbous red faceted and a few elliptical ones Most are NOS
40.00 shipped on the lot!
Make offers on various combinations of lots 1 + 3 etc ...