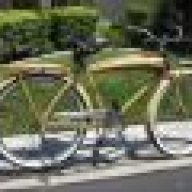 Wore out three sets of tires already!
Oct 23, 2011
856
Las Vegas
I have 3 Prewar 26" dropcenters for sale. The rustiest one is from a '41 Westfield/Columbia. The others appear to be the right style for an Elgin or just about anything. ALL are straight, true and ridable.
$20 shipped for the rusty, $25 shipped each for either of the other two.
$65 shipped for all three!