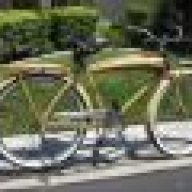 Wore out three sets of tires already!
Oct 23, 2011
856
Las Vegas
FS - Prewar Torrington Stem SOLD!
This Torrington Pope Texas stem is off a 1941 Columbia and is the same stem used on Columbias, Westfields, and Elgins (amongst others too).
It is in great shape! Comes with bolt and block, and nut and washer for the handlebars.
$30 Shipped. Last edited: