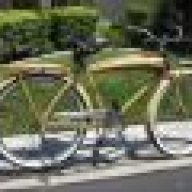 Wore out three sets of tires already!
Oct 23, 2011
856
Las Vegas
The Prewar Dropstand is for a Westfield/Columbia. I decided not to use it for my resto, and instead go with a kickstand.
It fits any 26" bike, has been blasted and primed. READY FOR PAINT! No nuts & bolts. Straight and flawless.
Perfect for your restoration or high-quality prewar bike!
$55 shipped