I will sell this set SHIPPED to the Continetal U.S. ( Florida will be an additional $20.00) and Canada ..
$300.00 WITH FREE SHIPPING.
GENUINE Schwinn S-7 wheels and NOS U.S.A nylon Westwinds 26 x 1 ¾ and Bendix 2 speed shifter and cable, clips, complete unit. SWEET....
Here is a all original made in the U.S.A. S-7 wheel set with tires that are bolt on and ready ( may need a fixed nut clamp.I've never set one up before?) for any original Schwinn middleweight that takes the 26 x 1 ¾ tires/S-7 rims.
That said, although the hubs spin freely and everything is SUPER clean, they are untested and may need the usual pinch of grease and adjustment. I bought these from a reputable collector with intent to use on a 1958 Schwinn Jaguar, but have opted for a set of S-2 balloon rims. ( not correct….but my choice)
The tires are U.S.A.
Factory Schwinn Westwind are SECONDS
, and look to have a bit of dark shade on one of the whitewalls and a clay mark in another spot. The sidewalls have had the Schwinn name buffed off at factory in 2 spots because of such a blemish. The Westwind MADE IN U.S.A. Nylon tires are beautiful, flexible, supple, and have no structural flaws that I can see. They have never been ridden on. They still have the factory "nubs and identical #49 factory inspection tags on the inner clay lining.
The rims speak for themselves.
About as nice as they come, and complete with
GENUINE Schwinn S-7 wheels NOS U.S.A. nylon Westwind 26 x 1 ¾ tires Bendix 2 spd |
the Bendix 2 speed Aviation Corp. lever, clamp, and cable ( 3…1 clip is tarnished)
clips all in SUPERB condition. The wheels are a strong 8 out of 10 ( 10 being
NEW OLD STOCK) and would be suitable for an excellent original bike, or non
show restoration. They are straight and rust free ( I see one little ding on the rim
side). There are pinpoint blemishes on the otherwise shiny chrome finish. The
hubs and sprockets/hardware are not bright chrome, but clean/presentable. They
could be cleaned up further.
The front hub has the Schwinn script on it, and rims have the knurled center with
Schwinn Tubular S-7 clearly stamped in the middle. Bendix hub is clean and
smooth.
I paid over $400.00 for the set /wheels/tires this year, expect to take my regular "bath/loss" but so be it..lol. I eat ketchup sandwiches.... FREE
SHIPPING!!!!TO CANADA
AND lower 48 U.S. states. (Florida an extra $20.00 on price)
Please note: these WILL cost up to $100.00 Canada Post/USPS to ship for California/lower 48 in Mid West.... ( I eat that..)this parcel is almost 20 lbs and oversize/packed well. I can send pics of them packed, and dozens of other tires/wheels packed and sold over 30 years in the hobby.

Cheers,

Bob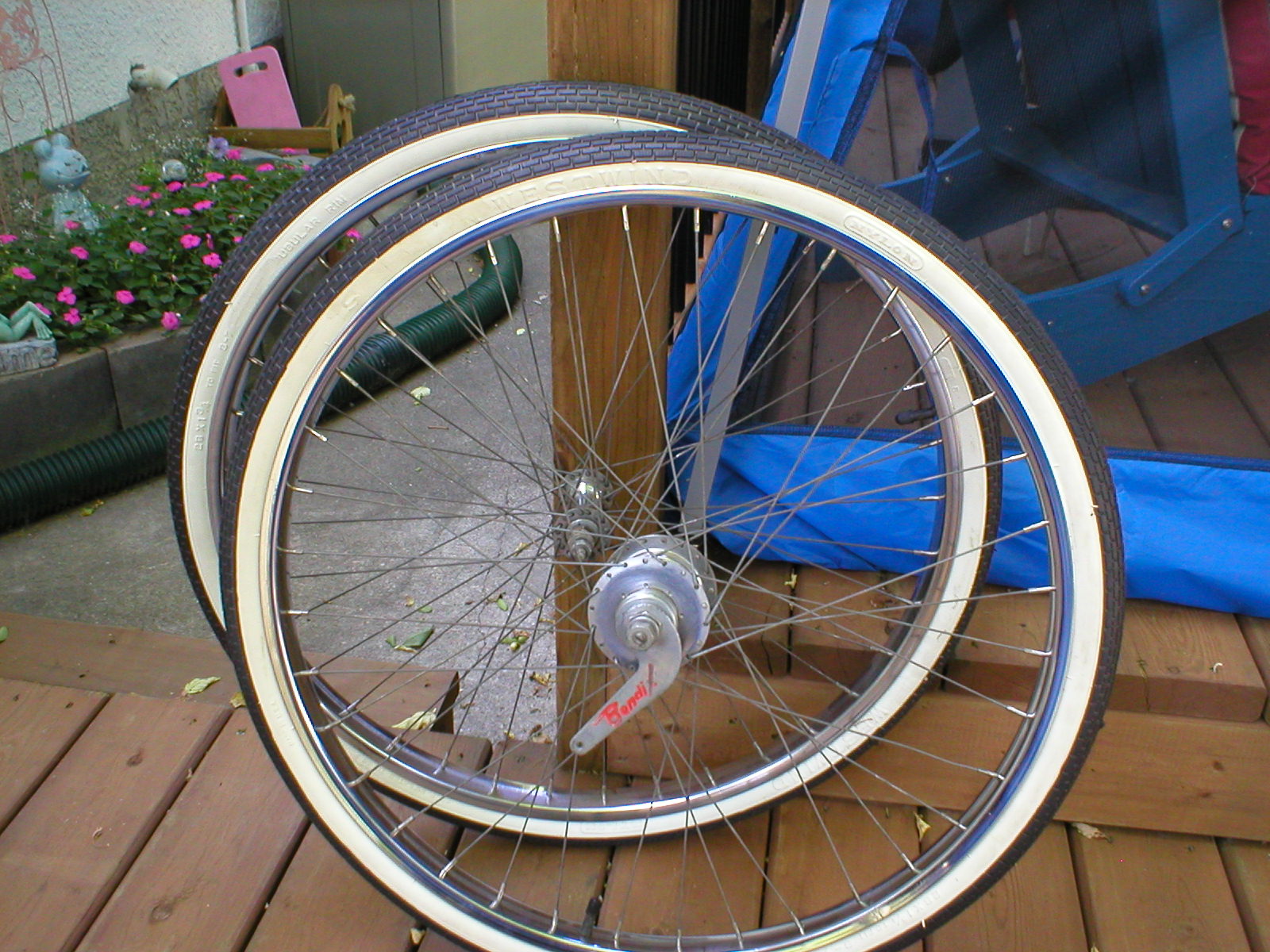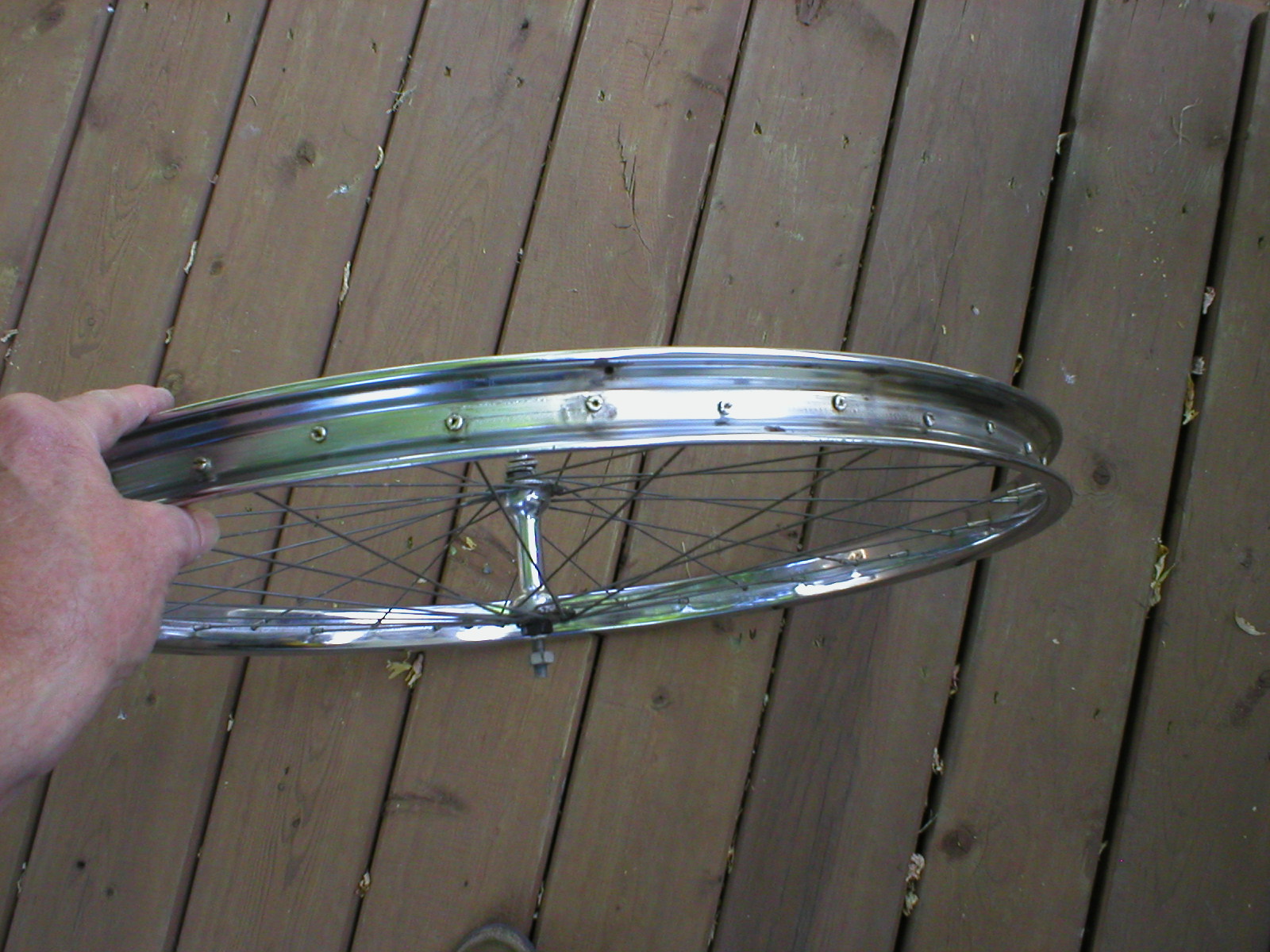 Last edited: